"Mank" quotes
(2020)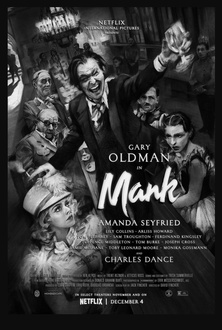 Title Mank
Year 2020
Director David Fincher
Genre Drama, Comedy, Biography

Plot – Mank is a 2020 American biographical drama film about social critic and alcoholic screenwriter Herman J. Mankiewicz and his development of the screenplay for Citizen Kane (1941). He got recruited by Orson Welles while he was in Victorville, California recovering from a broken leg he sustained in a car accident. But during production and leading up to the film's release a lot of problems arise between them.
All actors – Gary Oldman, Amanda Seyfried, Lily Collins, Tom Pelphrey, Arliss Howard, Tuppence Middleton, Monika Gossmann, Joseph Cross, Sam Troughton, Toby Leonard Moore, Tom Burke, Charles Dance, Ferdinand Kingsley, Jamie McShane, Jack Romano
show all
"John Houseman-All I am saying is, no one can write like that.
Herman Mankiewicz-But I can write like that, Houseman. I have. The narrative is one big circle, like a cinnamon roll. Not a straight line pointing to the nearest exit. You cannot capture a man's entire life in two hours. All you can hope is to leave the impression of one."


"Marion Davies-Pops, this is Herman Mankiewicz, but we have to call him Mank.
William Randolph Hearst-Mankiewicz? Herman Mankiewicz. New York playwright and drama critic?
Herman Mankiewicz-Turned humble screenwriter, Mr. Hearst.
William Randolph Hearst-Why, no need to be humble, Mr. Mankiewicz. Pictures that talk are the future. They're going to..."

(continue)

(continue reading)




John Houseman-All in all, it's a bit of a jumble.
Herman Mankiewicz-Did you say "jumble" or "jungle"?
John Houseman-A hodgepodge of talky episodes. A collection of fragments that leap around in time, like Mexican jumping beans.
Herman Mankiewicz-Welcome to my mind, Old Sock.