"Zodiac" quotes
(2007)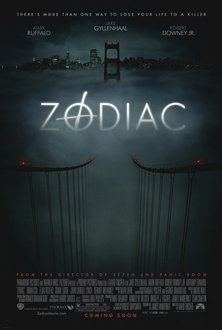 Title Zodiac
Year 2007
Director David Fincher
Genre Drama, History, Crime

All actors – Jake Gyllenhaal, Mark Ruffalo, Anthony Edwards, Robert Downey Jr., Brian Cox, John Carroll Lynch, Richmond Arquette, Bob Stephenson, John Lacy, Chloë Sevigny, Ed Setrakian, John Getz, John Terry, Candy Clark, Elias Koteas, Dermot Mulroney, Donal Logue, June Diane Raphael, Ciara Hughes, Lee Norris, Patrick Scott Lewis, Pell James, Philip Baker Hall, David Lee Smith, Jason Wiles, Charles Schneider, James Carraway, Tom Verica, Jimmi Simpson, Doan Ly, Karina Logue, Joel Bissonnette, Zach Grenier, John Mahon, Matt Winston, Jules Bruff, John Ennis, J. Patrick McCormack, Adam Goldberg, James Le Gros, Charles Fleischer, Clea DuVall, Paul Schulze, Adam Trese, Penny Wallace, John Hemphill, Michel Francoeur, Thomas Kopache, Barry Livingston, Christopher John Fields, , Stanley B. Herman, Giovanna Spuria, Hayati Akbas, Martin Andris, David Winston Barge, Marlo Bernier, Felix J. Boyle, Geoff Callan, Brad Carr, Cabran E. Chamberlain, Cookie Crawford, JD Cullum, Rod Damer, Francois Dominick, Judith Drake, Carter Evans, Mitchell Fink, Erica Ford, Ted Garcia, Gloria Grant, Benjamin Hartnell, Bryan C. Hartnell, Jonathan Hartnell, Monica Hartnell, Tish Hicks, Phoebe Holston, Michael Hungerford, Janis Jones, Roy Lee Jones, Anna Katarina, Barry LeBrock, Emily Lineham, Marty Lodge, Danielle McKee, E.P. McKnight, Jim McNichols, Cazimir Milostan, Betty Murphy, Dave Nemeth, Derris Nile, James Joseph O'Neil, Jeff Daniel Phillips, David Alan Poe, Peter Quartaroli, Brett Rickaby, Michael Rose, Jack Samson, John Sarno, Micah Sauers, Zachary Sauers, Bill Seward, Matthew Shields, Ione Skye, Callie Thompson, Cooper Thornton, April Vancelette, Cassius M. Willis, Shane Woodson
show all
"- Inspector Dave Toschi: Hey, how do we know that this lead is real?
- Inspector William Armstrong: It's very real. How do I know? Because I saw it on TV."


"Robert Graysmith: just because you can't prove it doesn't mean it isn't true."




- Paul Avery: What's your angle, here? This is good business for everyone but you.
- Robert Graysmith: What do you mean, "angle"?.


"The Most Dangerous Game". It was my favorite book in high school. It's about this man who waits for these people to get shipwrecked on this island. Because he was tired of hunting animals, he hunted the people for the challenge.