"Set It Off" quotes
(1996)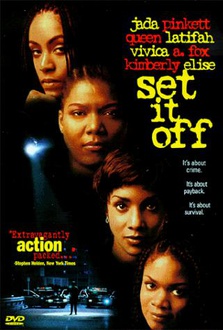 Title Set It Off
Year 1996
Director F. Gary Gray
Genre Drama, Crime, Romance, Thriller, Action

Plot – Cleo, Frankie, Stony and Tisean are four girls of African-American origins who live in a suburb of Los Angeles. They work in a cleaning company but they aren't happy, so they decide to carry out a bank robbery. The hit is successful and they want to continue stealing, but Stony isn't convinced about it, moreover an executive of one of the banks they've robbed falls in love with her and dates her. Now the four girls have entered an inexorable spiral with no way out.
All actors – Jada Pinkett Smith, Queen Latifah, Vivica A. Fox, Kimberly Elise, John C. McGinley, Blair Underwood, Vincent Baum, Van Baum, Chaz Lamar Shepherd, Thomas Jefferson Byrd, Charles Robinson, Ella Joyce
show all
"Set It Off" Quotes 5 quotes
"- Francesca 'Frankie' Sutton: I know you out of money by now, Cleo. Now what you going to do?
- Cleopatra 'Cleo' Sims: Rob another goddamn bank! What the fuck is ya'll thinkin?"


"Shit, we ain't robbing stagecoaches, man! We need something to set it off with."


"- Francesca 'Frankie' Sutton: The only way we gonna see cash is if we take a bank.
- Cleopatra 'Cleo' Sims: Now see I'm with that shit!
- Lida 'Stony' Newsom: Ya'll niggas done lost ya'll mind. We might as well not even talk about this shit no more.
- Francesca 'Frankie' Sutton: Well I'm talkin' 'bout it. And ain't nobody gonna stop me from..."

(continue)

(continue reading)




What part of "no" don't you understand, Strode? The "N" or the "O"?