"Blue in the Face" quotes
(1995)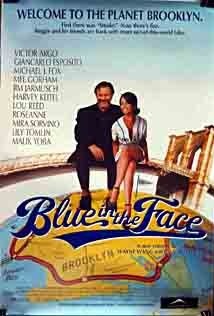 Title Blue in the Face
Year 1995
Directors Paul Auster, Wayne Wang, Harvey Wang
Genre Comedy

All actors – Lou Reed, Michael J. Fox, Roseanne Barr, Mel Gorham, Jim Jarmusch, Lily Tomlin, Jared Harris, Giancarlo Esposito, Malik Yoba, José Zúñiga, Victor Argo, Stephen Gevedon, Lurie National Orchestra The John, Madonna, Sharif Rashed, Mira Sorvino, Keith David, Peggy Gormley, Harvey Keitel, Chief Bey, Ian Frazier, Sasalina Gambino, Robert Jackson, Rusty Kanokogi, Luc Sante, Tatienne Hendricks-Tellefsen, Chelsea Altman, Michael Badalucco, Teodorina Bello, Billy Cherry, Michelle Hurst, Edmund Ikeda, Ahmed Ben Larby, William Preston, Debra Wilson, RuPaul, Diana Brownstone, Liz Curtis, James Dickson, Rehanna Ellis, Esteban Fernández, Eileen Galindo, Cotton Green, Nick Kosovich, Kyle Larsen, Gregory Misciagno, Liz Ramos, Ray Rodriguez, Charles LaSalle, Lisa Scarola, Dale Stotts, Ginger Thatcher, Richard Conte, Luz Alexandra Ramos
show all
"Blue in the Face" Quotes 5 quotes
"I am smoking cigarettes and some of my friends have died of them, but I am not downing a quart of Scotch in fifteen minutes. Looked at that way, cigarettes are actually a health tool!"


"I'm scared 24 hours a day, but not necessarily in New York. I actually feel pretty comfortable in New York. I get scared like in Sweden. You know, it's kind of empty. They're all drunk. Everything works. If you, you know... If you stop at a stop light and don't turn your engine off... people come over and talk to you about it. You open the..."

(continue)

(continue reading)




"- Tommy Finelli: I don't eat shit. It's against my religion.
- Pete Maloney: What religion is that?
- Tommy Finelli: The religion of sanity, Peter. You should try it some time.
- Pete Maloney: I did, but I was excommunicated."


I don't know anyone in New York who doesn't say "I'm leaving". I've been thinking of leaving New York for... uh... thirty-five years now.