"Casual Sex?" quotes
(1988)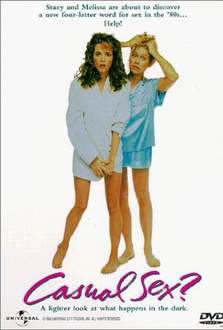 Title Casual Sex?
Year 1988
Director Geneviève Robert
Genre Comedy

All actors – Lea Thompson, Victoria Jackson, Stephen Shellen, Jerry Levine, Andrew Dice Clay, Mary Gross, Valerie Breiman, Peter Dvorsky, David Sargent, Cynthia Phillips, Don Woodard, Danny Breen
show all
"Casual Sex?" Quotes 10 quotes
"- Stacy: You can have one with the guy on top?
- Ilene: Mm-hmm.
- Stacy: I hate you!"

"It was the early eighties, and sex was still a good way to meet new people."

"- Stacy: When you're with a guy, you're not just sleeping with him, you're sleeping with everyone they've had sex with.
- Ilene: And everyone they've had sex with.
- Melissa: Gee, I'm a lot more experienced than I thought I was!"


"I used to have it all figured out. It's like women changed when I had my back turned."




"I lied. I was extremely attracted to you. I just didn't want you to see my unusually small penis."

- Stacy: This is kind of embarrassing to admit, but I remember when it was actually fun to say, "wow, that really felt great! What's your name again?".
- Melissa: I've never had sex with someone I didn't know. For that matter, I've never said, "wow, that felt really great".


"- Stacy: This is a miracle! For once it's all up to him. No tubes, no jellies, no furtive trips to the bathroom... I can just sit back and let it happen. I don't have to do anything.
- Nick: I'm not too good with these things. Can you give me a hand putting it on?"

- Ilene: What do you miss most about sex?
- Stacy: I miss falling asleep with someone's arms around me. And the feeling of, mm...
- Ilene: Orgasm? I love orgasms.
- Stacy: I'm sick of my "mighty intruder" vibrator with the flexible shaft and the textured head.