"Hey There, It's Yogi Bear!" quotes
(1964)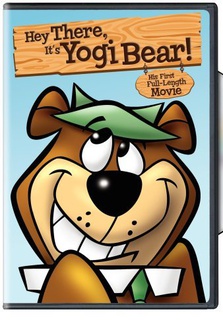 Title Hey There, It's Yogi Bear!
Original title Hey There, It's Yogi Bear
Year 1964
Directors Joseph Barbera, William Hanna
Genre Comedy, Romance, Adventure, Family, Animation

Plot – During springtime Yogi and Boo Boo awaken from hibernation as every good bear. They have a formidable appetite. As every year, Ranger Smith doesn't want them to get food from the tourists, so all that the two bears can do is stealing the picnic baskets hidden by the Ranger, but this spring won't be like the others because Yogi is about to meet his soul mate.
All actors – Daws Butler, Don Messick, Julie Bennett, James Darren, Mel Blanc, J. Pat O'Malley, Hal Smith, Jean Vander Pyl, Jonah and the Wailers, Bill Lee, Ernest Newton, Jackie Ward
show all
"Hey There, It's Yogi Bear!" Quotes 5 quotes
"He's turning this park into a boot camp, with me getting the boot."




"- Boo-Boo Bear: But Yogi, the Ranger's not going to like it.
- Yogi Bear: What's not to like about Robin Hood? I'll steal from the rich and give to a poor bear: me."


- Ranger John Smith: [showing a "Do Not Feed The Bears" sign to Yogi] Read this sign.
- Yogi Bear: Uh, "No Smoking In The Forest"?
- Ranger John Smith: You know what it says, Yogi, and it applies to all the bears, especially you!