"My Left Foot" quotes
(1989)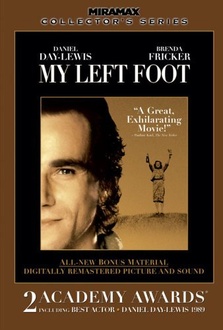 Title My Left Foot
Original title My Left Foot: The Story of Christy Brown
Year 1989
Director Jim Sheridan
Genre Drama, Biography

Plot – Newborn Christy Brown suffers a paralysis and cannot speak nor move. Doctors have pessimistic forecasts about his life but Christy is welcomed by his large family. As a child, Christy tries to communicate with his foot, writing and painting with them too. When he's seventeen, specialist Dr. Eileen Cole operates him, letting him improve and have a big success as a painter. Then he decides to write his autobiography.
All actors – Daniel Day-Lewis, Brenda Fricker, Alison Whelan, Kirsten Sheridan, Declan Croghan, Eanna MacLiam, Marie Conmee, Cyril Cusack, Phelim Drew, Ruth McCabe, Fiona Shaw, Ray McAnally, Pat Laffan, Derry Power, Hugh O'Conor, Darren McHugh, Owen Sharp, Eileen Colgan, Keith O'Conor, Tom Hickey, Julie Hale, Jacinta Whyte, Sarah Cronin, Jean Doyle, Britta Smith, Adrian Dunbar, Lucy Vigne Welsh, Daniel Reardon, Conor Lambert, Martin Dunne, Charlie Roberts, Jer O'Leary, Mil Fleming, Simon Kelly, Eileen Kohlmann, Margaret Lyons, Patricia Higgins, Hilery O'Donovan, Don King, Jenny Bryne, Linda Walker, Albert Kavanagh, Joe Swan, Rita Lowe, Gerard Hourigan, Dawn Kursinczy, Denis O'Leary, Lesley Ann Long, Caromy Corcoran, Cathy Corcoran, Lisa Jane Rowland, Aisling Murnane, Audrey Diffley, Oba Seagrave, Colm Rowland, Owen Sullivan, Dean Clifford, Sean Rowland, Barry Keane, Wayne Kearney, John Mark Knight, Deborah Pierce, Barry Lord, Tess Sheridan, Fiacra Sheridan, Eoghan O'Sullivan, Kerry Ellen Lawlor, Naomi Sheridan, Emily Hodge Barker
show all
"My Left Foot" Quotes 8 quotes
"I've had nothing but Platonic love all my life. Do you know what I say? Fuck Plato! And fuck all love that's not a hundred percent commitment!"




"A broken body's nothing compared to a broken heart."




"All is nothing, therefore nothing must end."

"Con... Con... Con... gra... tu... la... tions, Peter and Eileen on the won... wonderful news. I'm glad you taught me how to speak so I could say that, Eileen."

"I am acutely conscious sometimes of my own isolation, even in the midst of people. And I often give up hope of ever being able to really communicate with them. It is not only the sort of isolation that every writer or artist must experience in the creativemood if he is to create anything at all. It is like a black cloud sweeping down on me..."

(continue)

(continue reading)

"- Christy Brown: I need a light
- Mary: What?
- Christy Brown: I need a light.
- Mary: I don't smoke.
- Christy Brown: I need a light.
- Mary: I'm not deaf, I can hear you. I haven't got any matches, so you'll just have to wait here while I go and get one... Don't think I'm your mother just because I'm looking after you for the evening.
-..."

(continue)

(continue reading)




- Christy Brown: Fuck off.
- Dr. Eileen Cole: With speech therapy, I could teach you how to say "fuck off" more clearly.