"Ed Wood" quotes
(1994)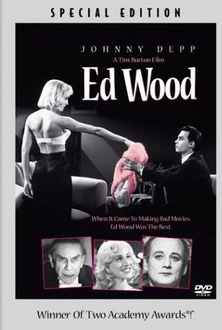 Title Ed Wood
Year 1994
Director Tim Burton
Genre Drama, Comedy, Biography

Plot – Hollywood, 1950s. Ed Wood, a young man who loves to dress up as a woman, makes low budget movies in the most incredible ways, using often grotesque "production" gimmicks. He befriends Bela Lugosi, who is now old, poor and a morphine addict, and assists him to death. After a meeting with Orson Welles, Ed Wood makes his first successful film, "Plan 9 from Outer Space".
All actors – Johnny Depp, Martin Landau, Sarah Jessica Parker, Patricia Arquette, Jeffrey Jones, G.D. Spradlin, Vincent D'Onofrio, Bill Murray, Mike Starr, Max Casella, Brent Hinkley, Lisa Marie, George 'The Animal' Steele, Juliet Landau, Clive Rosengren, Norman Alden, Leonard Termo, Ned Bellamy, Danny Dayton, Ross Manarchy, Bill Cusack, Aaron Nelms, Biff Yeager, Joseph R. Gannascoli, Carmen Filpi, Lisa Malkiewicz, Melora Walters, Conrad Brooks, Don Amendolia, Tommy Bertelsen, Reid Cruickshanks, Stanley DeSantis, Lionel Decker, Edmund L. Shaff, Gene LeBell, Jesse Hernandez, Bobby Slayton, Gretchen Becker, John Rice, Catherine Butterfield, Mary Portser, King Cotton, Don Hood, Frank Echols, Matthew Barry, Ralph Monaco, Anthony Russell, Tommy Bush, Gregory Walcott, Charles C. Stevenson Jr., Rance Howard, Vasek Simek, Alan Martin, Salwa Ali, Rodney Kizziah, Korla Pandit, Hannah Eckstein, Luc De Schepper, Vinny Argiro, Patti Tippo, Ray Baker, Louis Lombardi, Jim Boyce, Ben Ryan Ganger, Ryan Holihan, Marc Revivo, Charlie Holliday, Adam Drescher, Ric Mancini, Daniel Riordan, Mickey Cottrell, Christopher George Simpson, Robert Binford, Herbert Boche, Linda Rae Brienza, Marlene Cook, Sylvia Coussa, Audrey Cuyler, Joseph Golightly, Carrie Starner Hummel, Ramona Kemp-Blair, Carolyn Kessinger, Nancy Longyear, Matthew Nelson, Robert Nuffer, William Michael Short, Susan Eileen Simpson, George F. Sterne, Charles Alan Stephenson, Cheri A. Williams, Cynthia Ann Wilson, Bill Anderson, Mike Breyer, Ryal Haakenson, Zachary Keats, Susan Knego, Tanya Marten, Danny Ramirez, Ada Tai, Arlene Tai, Rayder Woods
show all
"Ed Wood" Quotes 29 quotes
"Filmmaking is not about the tiny details. It's about the big picture."


- Bela Lugosi: The pure horror, it both repels and attracts them, because in their collective unconsiousness, they have the agony of childbirth. The blood. The blood is horror.
- Edward D. Wood, Jr.: You know, I never thought of that.
- Bela Lugosi: Take my word for it. If you want to make out with a young lady, take her to see "Dracula".

"Eddie, we're in show biz. It's all about razzle-dazzle. Appearances. If you look good, and you talk well, people will swallow anything."


"- Vampira: Why couldn't we do this in the church?
- Criswell: Because Brother Tor couldn't fit in the sacred tub."

"This is the most uncomfortable coffin I've ever been in. Your selection is quite shoddy. You are wasting my time."


"- Edward D. Wood, Jr.: The story opens on these mysterious explosions. Nobody knows what's causing them, but it's upsetting all the buffalo. So, the military are called in to solve the mystery.
- Editor on Studio Lot: You forgot the octopus.
- Edward D. Wood, Jr.: No, no, I'm saving that for my big underwater climax."


"- Edward D. Wood, Jr.: I like to wear women's clothes. Panties, brassieres, sweaters, pumps. It's just something I do. And I can't believe I'm telling you this, but I really like you, and I don't want it getting in the way down the road.
- Kathy O'Hara: Does this mean... you don't like sex with girls?
- Edward D. Wood, Jr.: No, I love sex with..."

(continue)

(continue reading)




"- Ed Reynolds: Before we startshooting, Mr. Wood, we have a few questions.
- Reverend Lemon: Yes. The script contains numerous references to graverobbing. Now we find the concept of digging up consecrated ground to be highly offensive. It is blasphemy.
- Edward D. Wood, Jr.: What are you talking about? It's the premise of the movie! It's the..."

(continue)

(continue reading)




"Visions are worth fighting for. Why spend your life making someone else's dreams?"




- Bela Lugosi: How dare that asshole bring up Karloff? You think it takes talent to play Frankenstein? It's all makeup and grunting!
- Edward D. Wood, Jr.: Bela, I agree with you 100%. Now, "Dracula", that's a role that requires talent.
- Bela Lugosi: Of course. Dracula requires presence. It's all in the eyes, and the voice, and the hands...