"Sea of Love" quotes
(1989)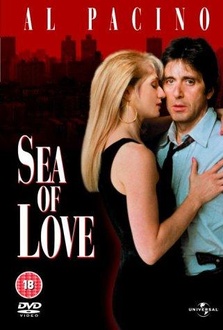 Title Sea of Love
Year 1989
Director Harold Becker
Genre Drama, Crime, Thriller, Mystery

Plot – Frank Keller is a New York cop with 20 years on the force. He is divorced and his wife Denise has remarried one of his colleagues. He feels lonely and unhappy and could retire. Instead, he throws himself headlong into his work together with his partner Sherman, investigating the murder of three men who have been killed in the same way. The three victims were lonely men who had found company through a lonely hearts ad; all were found naked in bed with a gunshot to the head as a love song, "Sea of ​​Love," kept playing. The suspect is a woman who could have killed the three victims for reasons known only to her. The two policemen begin to meet different women putting an ad in the same newspaper as the victims had and background checks are done on all of them: one in particular, Helen, seems to respond to the characteristics of the offender. However, Frank falls for her, finding himself torn between a sense of duty and love.
All actors – Al Pacino, Ellen Barkin, John Goodman, Michael Rooker, William Hickey, Richard Jenkins, Paul Calderon, Gene Canfield, Larry Joshua, John Spencer, Christine Estabrook, Barbara Baxley, Patricia Barry, Mark Phelan, Michael O'Neill, Michael Fischetti, Luis Antonio Ramos, Rafael Báez, Samuel L. Jackson, Damien Leake, Zachary Michael Simmons, John Thaddeus, Joshua Nelson, Christofer de Oni, Dwayne McClary, Jacqueline Brookes, Thom Curley, Fred Sanders, Larry Mullane, Anthony Calanese, Thomas Wagner, Manny Alfaro, Brian Paul, Deborah Taylor, Ferne Downey, Gerald Lenton, Nancy Beatty, Arun Greenaway, Nicolina Greenaway, Tony De Santis, Jackie Laidlaw, Paul Hubbard, Bill Haslett, James Kidnie, Bridget O'Sullivan, Delaney Moore-Wickham, Franz Fridal, James O'Regan, Wayne Best, John Bourgeois, Hugh Thompson, Philip Ho, Igor Stern, Miranda de Pencier, Ty Templeton, Lorraine Bracco, David Berni, Julianne Gillies, Barry Godin, Christopher Maleki, Roger Montgomery, Anita Rossi
show all
"Sea of Love" Quotes 5 quotes
"It's called making people feel good about themselves so that they'll cooperate with you and help you to do your job. You should try it some time."

"- Det. Sherman: Think you could go for a babe with a dick?
- Det. Frank Keller: Depends on her personality, really."


The emcee asks, "What's the most romantic place you've ever made love to your wife?". And this guy's thinking, he's got a brain like a pea, but he's thinking, and he says, "In the butt!".