"The Man Without a Face" quotes
(1993)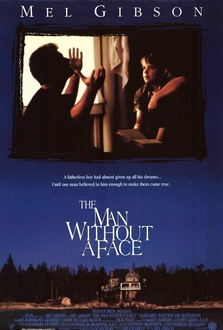 Title The Man Without a Face
Year 1993
Director Mel Gibson
Genre Drama

Plot – Chuck Norstadt is on holiday at Cranesport, in Maine. He's 12 and has lost his father, so he has to bare his mother Catherine and his half-sisters Gloria and Meg. He wants to study in the Naval Academy and asks to Justin McLeod some private lessons because he's a former teacher who lives isolated in a cottage. McLeod is a mysterious man and his face is disfigured.
All actors – Mel Gibson, Nick Stahl, Margaret Whitton, Fay Masterson, Gaby Hoffmann, Geoffrey Lewis, Richard Masur, Michael DeLuise, Ethan Phillips, Jean De Baer, Jack De Mave, Viva
show all
"The Man Without a Face" Quotes 6 quotes
- Justin McLeod: I like privacy.
- Charles E. "Chuck" Norstadt: Well, what about living alone? Do you like that?
- Justin McLeod: It likes me.


"You gave me what I never expected to find again. A gift of your trust and love. And nothing can take that grace away. The best is yet to be, Norstadt. So do it well..."

"People spend too much time thinking of the past. Whatever else it is, it's gone."




This is the way it works. "Aut disce aut discede" - learn or leave. Because it's of no consequence to me, one way or the other.