"Baby Boy" quotes
(2001)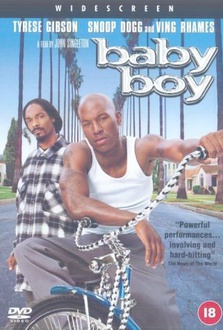 Title Baby Boy
Year 2001
Director John Singleton
Genre Drama, Crime, Romance

Plot – Jody is twenty-years-old and is unemployed, so he still lives with his mother despite he has two children. He would like to move in with his new girlfriend, but his mother disagrees even if Jody doesn't like her unpleasant boyfriend.
All actors – Tyrese Gibson, Taraji P. Henson, Omar Gooding, Tamara LaSeon Bass, Candy Ann Brown, A.J. Johnson, Ving Rhames, Snoop Dogg, Angell Conwell, Kareem J. Grimes, Tracey Cherelle Jones, Kaylan Bolton, Kylan Bolton, Freez Luv, Mo'Nique, Juanita Jennings, Liris Crosse, Sylvester Robinson, Maasai Singleton, Mario Jackson, Keith Diamond, Freddie Ricks, Selma McPherson, Asondra Hunter, Tawny Dahl, AlexSandra Wright, Serese Teate, Olan Thompson, Ephraim Benton, Java Benson, DeJuan Guy, Deon Gregory, Tray Deee, Goldie Loc, Diamond Dawn Cook, Charlee Miyohshi, Roma Alvarez, Limary Agosto, Amentha Dymally, Kym Whitley, Hope Flood, Dannon Green, Cleopatra Singleton, Sheila Ward, Jamaica Carter, Delores Gilbeaux, Terrance Holloway, Sir Hondes D. Williams Sr., Calvin L. Valrie Jr., Eddie Clark, , Yolanda Jones, Akciree Knight, Ericka Knight, Shawn M. Richardz, John Singleton, Angie Wells
show all
"Baby Boy" Quotes 6 quotes
I don't wanna reach the gates and Jesus be like: "Turn yo ass around nigga".


"You got to know a woman's size on sight. Before she tells. Don't wait for her to tell you. You should know."




"Are you trying to be a salesman or a shyster? You buy from a shyster, you feel like you got took. You buy from a good salesman and you feel lucky."


I'm not going to use the b-word. I just call you all "unstable creatures".