"Betsy's Wedding" quotes
(1990)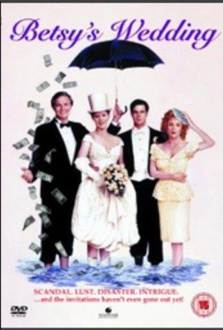 Title Betsy's Wedding
Year 1990
Director Alan Alda
Genre Comedy, Romance

All actors – Alan Alda, Joey Bishop, Madeline Kahn, Anthony LaPaglia, Catherine O'Hara, Joe Pesci, Molly Ringwald, Ally Sheedy, Burt Young, Julie Bovasso, Nicolas Coster, Bibi Besch
show all
"Betsy's Wedding" Quotes 3 quotes
"- Oscar Henner: How could you do that to your husband? I'm your family!
- Gloria Henner: Oh, you're quite the family man. You were cheating on your wife. You're cheating on your brother-in-law. You're probably cheating on this poor secretary underpaid and overscrewed.
- Oscar Henner: I don't wanna hear this. This is ridiculous. I don't have to..."

(continue)

(continue reading)




I'm gonna give you a little advice about life. You follow this and you won't be sorry. "Don't screw with your brains, don't think with your dick". That's from the heart.