"Friday the 13th Part 2" quotes
(1981)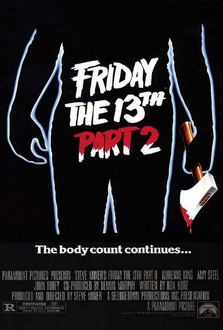 Title Friday the 13th Part 2
Year 1981
Director Steve Miner
Genre Horror, Thriller, Mystery

Plot – Five years have passed since the brutal massacre at Crystal Lake. Jason Voorhes drowned in the lake tragically, then his mother committed many crimes in revenge, until she died. Other guys go now to the campground to take part to a training course. Who is terrorizing the guys this summer?
All actors – Amy Steel, John Furey, Adrienne King, Kirsten Baker, Stuart Charno, Warrington Gillette, Walt Gorney, Marta Kober, Tom McBride, Bill Randolph, Lauren-Marie Taylor, Russell Todd
show all
"Friday the 13th Part 2" Quotes 7 quotes
"The girl that survived that night at Camp Blood, that... Friday The 13th? She claimed she saw him. She disappeared two months later... vanished. Blood was everywhere. No one knows what happened to her. Legend has it that Jason saw his mother beheaded that night. Then, he took his revenge, a revenge he continued to seek if anyone ever enters his..."

(continue)

(continue reading)




"- Terri: Don't go anywhere.
- Scott: Very funny."

"I don't wanna scare anyone, but I'm gonna give it to you straight about Jason. His body was never recovered from the lake after he drowned. And if you listen to the old-timers in town, they'll tell you he's still out there, some sort of demented creature, surviving in the wilderness, full grown by now... stalking... stealing what he needs,..."

(continue)

(continue reading)




- Paul: Where was I?
- Ted: You were about to give your "let's keep our shit together" speech.