"Hard Target" quotes
(1993)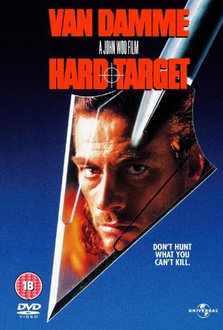 Title Hard Target
Year 1993
Director John Woo
Genre Thriller, Action

Plot – In New Orleans a gang of mysterious killers shoots to death Binder, a war veteran. His daughter Natasha hasn't seen her father over an years and she's looking for him helped by a sailor called Chance Boudreaux. Together they learn Binder is dead and a trail leads them to Randal Poe, a man who apparently hires homeless people for leafleting. Actually he captures lonely men to make them to be chased by wealthy maniacs who want to live violent emotions. The organizers of those crazy hunts are Emil Fouchon, a former mercenary, and his accomplice Pik Van Cleaf, a sadist. Pik kills Randal, but the violence is not over yet.
All actors – Chuck Pfarrer, Robert Apisa, Arnold Vosloo, Lance Henriksen, Douglas Rye, Mike Leinert, Yancy Butler, Lenore Banks, Willie C. Carpenter, Jean-Claude Van Damme, Barbara Tasker, Kasi Lemmons
show all
"Hard Target" Quotes 7 quotes
"Careless is what you are, Randal. Careless and stupid; and now you're sorry, too."

"- Marie: You seem to have a real talent, Mr. Boudreaux, for attracting violence.
- Chance Boudreaux: Does that make me a bad person?"


"If you men would die quieter and pick up the pace, Boudreaux would have less time for these little surprises."

- Natasha "Nat" Binder: What kind of a name is Chance?
- Chance Boudreaux: Well, my momma took one...