"Ralph Breaks the Internet" quotes
(2018)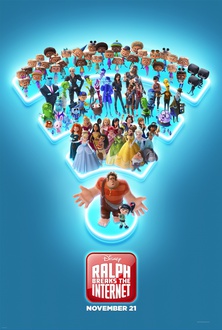 Title Ralph Breaks the Internet
Year 2018
Directors Phil Johnston, Rich Moore
Genre Comedy, Adventure, Animation

All actors – John C. Reilly, Sarah Silverman, Gal Gadot, Taraji P. Henson, Jack McBrayer, Jane Lynch, Alan Tudyk, Alfred Molina, Ed O'Neill, Sean Giambrone, Flula Borg, Timothy Simons, Ali Wong, Hamish Blake, GloZell Green, Rebecca Wisocky, Sam Richardson, Jaboukie Young-White, Maurice LaMarche, Melissa Villaseñor, Katie Lowes, Jamie Elman, Horatio Sanz, Alex Moffat, June Squibb, Della Saba, Michaela Zee, Phil Johnston, John DiMaggio, Rich Moore, Colleen Ballinger, Dani Fernandez, Tiffany Herrera, Ana Ortiz, Dianna Agron, Jason Mantzoukas, Raymond S. Persi, Fuschia!, Roger Craig Smith, Tim Allen, Brad Garrett, Anthony Daniels, Corey Burton, Vin Diesel, Jason Hightower, Brian Curless, Ann Barry Colgin, Viveca Paulin, Michael Giacchino, Kevin Deters, Jeremy Milton, Jesse Averna, Nicole Scherzinger, Brittany Kikuchi, Olivier Bénard, Ben McKee, Daniel Platzman, Dan Reynolds, Wayne Sermon, Irene Bedard, Kristen Bell, Jodi Benson, Auli'i Cravalho, Jennifer Hale, Kate Higgins, Linda Larkin, Kelly Macdonald, Idina Menzel, Mandy Moore, Paige O'Hara, Pamela Ribon, Anika Noni Rose, Ming-Na Wen, Elise Aliberti, Jenica Bergere, Tucker Gilmore, Gabriel Guy, Michael Herrera, Emmett Johnston, Fia Johnston, John Lavelle, Fabienne Rawley, Molly Reardon, Maddix Robinson, Brad Simonsen, Ruth Strother, Emerson Thomas-Gregory, Josie Trinidad, Dean Wellins, Daniel Middleton, Adam Carolla, Bill Hader
show all
"Ralph Breaks the Internet" Quotes 5 quotes
"- KnowsMore: Welcome to the Search Bar. What can I help you find today?
- Ralph: Umm...
- KnowsMore: Umbrella? Umbridge? Umami?
- Ralph: No.
- KnowsMore: Noah's Ark? No Doubt? Nordstrom Rack?
- Ralph: Rrrrrr!
- KnowsMore: Ergonomics? Urban Outfitters? Urkel?
- Vanellope: [to Ralph] I'm pretty sure he's just trying to guess what you're gonna say."

(continue)

(continue reading)




"All friendships change. But the good ones, they get stronger because of it."


I got 130 results for "Where does my high school girlfriend live now?"


"- Rapunzel: For the million dollar question: Do people assume all your problems got solved because a big strong man showed up?
- Vanellope: Yes! What is up with that?
- Ariel, Jasmine, Pocahontas, Elsa, Cinderella, Belle, Anna, Rapunzel: She is a Princess!"


- Vanellope: We are going to the internet!
- Ralph: Super exciting! Just one minor thing: what is an "internet"?