"Rock the Kasbah" quotes
(2015)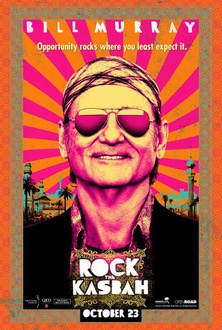 Title Rock the Kasbah
Year 2015
Director Barry Levinson
Genre Comedy, Music, War

Plot – Richie Vance is a music manager, forced to follow his only customer in Afghanistan. However Vance finds himself alone, with no money and no documents in Kabul. When he meets Salima, luck begins to turn in the right direction. She's a teenager who dreams to become a famous singer. Richie tries to dismantle the hardened Afghan prejudices and make the girl become a star.
All actors – Bill Murray, Bruce Willis, Kate Hudson, Zooey Deschanel, Leem Lubany, Arian Moayed, Scott Caan, Danny McBride, Fahim Fazli, Beejan Land, Sameer Ali Khan, Jonas Khan
show all
"Rock the Kasbah" Quotes 7 quotes
"First you lose your girl. Now you're gonna lose your head. You're running out of shit to lose."

"Jimi Hendrix played the National Anthem because I told him to."




"What kind of warlord throws a pool party on a weekday?"




"- Richie Lanz: I heard a girl singing just now. Right over there. A Pashtun girl.
- Riza: No. Impossible.
- Richie Lanz: The girl in the red burka. We saw her today.
- Riza: No, Pashtun women cannot. They are forbidden to sing.
- Richie Lanz: The chick in the red burka didn't get the memo."


- Richie Lanz: Thanks for not killing me.
- Tariq: [answers in Pashtun]
- Richie Lanz: What did he say?
- Riza: "The day is not over yet".