"Jojo Rabbit" quotes
(2019)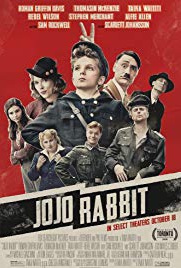 Title Jojo Rabbit
Year 2019
Director Taika Waititi
Genre Drama, Comedy, War

All actors – Roman Griffin Davis, Thomasin McKenzie, Scarlett Johansson, Taika Waititi, Sam Rockwell, Rebel Wilson, Alfie Allen, Stephen Merchant, Archie Yates, Luke Brandon Field, Sam Haygarth, Stanislav Callas, Joe Weintraub, Brian Caspe, Gabriel Andrews, Billy Rayner, Christian Howlings, Gilby Griffin Davis, Hardy Griffin Davis, Curtis Matthew, Robert East, , Bethany Adams, Samuel Bogner, Odeta Cali, Christian Clarke, Judith Georgi, Adolf Hitler, Victoria Hogan, James McVan, Trish Osmond, Matej Seifert, Iva Sindelková
show all
"Jojo Rabbit" Quotes 9 quotes
"There are no weak Jews. I am descended from those who wrestle angels and kill giants. We were chosen by God. You were chosen by a fat man with greasy hair and half a moustache."


"- Elsa Korr: I don't know anything about being a woman. Is that what it is? You do things like drinkwine?
- Rosie: Sure. You drink. Champagne if you're happy. Champagne, if you're sad. You drive a car. Gamble if you want. Own diamonds. Learn how to fire a gun. You travel to Morocco. Take up lovers. Make them suffer. You look a tiger in the eye...."

(continue)

(continue reading)




"- Jojo Betzler: I'm way too busy for a girlfriend.
- Elsa Korr: One day you'll make time. You'll think of nothing else. You'll meet someone, and spend your days, dreaming of the moments you can hold them in your arms again. That's love."


"And it is up to you to decide if you want to be remembered, or disappear without a trace, like a pitiful grain of sand into a desert of insignificance. To put it plainly. Get your shit together and sort out your priorities."

"- Jojo Betzler: I said to draw where Jews live. This is just a stupid picture of my head.
- Elsa Korr: Yeah, that's where we live."


"- Jojo Betzler: Nothing makes sense anymore.
- Yorki: Yeah, I know, definitely not a good time to be a Nazi."


"- Elsa Korr: You know what I am. Say it. Say it!
- Jojo Betzler: A Jew?
- Elsa Korr: Gesundheit."


Let them say whatever they want. People used to say a lot of nasty things about me. "Oh, this guy's a lunatic!" "Oh, look at that psycho! He's gonna get us all killed!"