"The Indian in the Cupboard" quotes
(1995)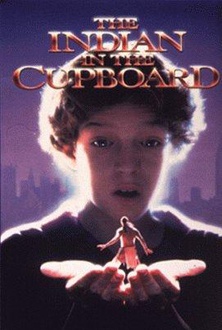 Title The Indian in the Cupboard
Year 1995
Director Frank Oz
Genre Drama, Family, Fantasy

Plot – For his birthday, young Omri receives three gifts: a wooden chest, a set of ancient keys and a small plastic Indian statue. When Omri puts the objects together, they magically come alive and drag him into a strange adventure.
All actors – Hal Scardino, Litefoot, Lindsay Crouse, Richard Jenkins, Rishi Bhat, Steve Coogan, David Keith, Sakina Jaffrey, Vincent Kartheiser, Nestor Serrano, Ryan Olson, Leon Tejwani
show all
"The Indian in the Cupboard" Quotes 4 quotes
"- Little Bear: Are we always great people?
- Omri: You are always great people, but it's not always so good."


"- Boone: Where may I ask, is my coffee? I always start my day with a cup of coffee.
- Omri: Okay, if you're good, I'll make you breakfast.
- Little Bear: Cook? Like a woman! You are a woman!"


- Omri: It's too risky.
- Boone: Whiskey?
- Omri: "Risky"! Dangerous!