"What About Bob?" quotes
(1991)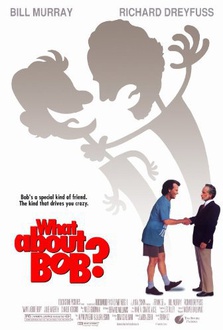 Title What About Bob?
Year 1991
Director Frank Oz
Genre Comedy

Plot – Bob Whiley decides to undergo the treatment of the psychoanalyst Dr. Leo Marvin, who wants him to read his latest book while he goes on holidays. Bob looks for him and harasses him until Leo, exasperated, tries to kill him in turn. On the other hand, the doctor's family likes Bob so much that Leo's sister decides to marry him. Bob finally heals and wants to study psychology.
All actors – Bill Murray, Richard Dreyfuss, Julie Hagerty, Charlie Korsmo, Kathryn Erbe, Tom Aldredge, Susan Willis, Roger Bowen, Fran Brill, Brian Reddy, Doris Belack, Melinda Mullins
show all
"What About Bob?" Quotes 13 quotes
"Oh, Fay, this is so scrumptious. Is this hand-shucked?"

"Hi, I'm Bob. Would you knock me out, please? Just hit me in the face."

"- Dr. Leo Marvin: I want some peace and quiet!
- Bob Wiley: Well, I'll be quiet.
- Sigmund 'Siggy' Marvin: I'll be peace!"


"- Bob Wiley: What are we doing?
- Dr. Leo Marvin: Death therapy, Bob. It's a guaranteed cure."

"- Dr. Leo Marvin: Are you married?
- Bob Wiley: I'm divorced.
- Dr. Leo Marvin: Would you like to talk about that?
- Bob Wiley: There are two types of people in this world: those who like Neil Diamond, and those who don't. My ex-wife loves him.
- Dr. Leo Marvin: I see. So, what you're saying is that even though you are an almost-paralyzed,..."

(continue)

(continue reading)




"- Dr. Leo Marvin: That patient, the one who called before, he committed suicide.
- Fay Marvin: Oh, Leo, how horrible.
- Dr. Leo Marvin: Oh well, let's not let it spoil our vacation."


"Good morning, Gil. I said, good morning, Gil."

"What if I'm looking for a bathroom, I can't find one, and my bladder explodes?"




"- Dr. Leo Marvin: This is black powder, Bob. One teaspoon of this stuff can blow up a tree stump. There we go!
- Bob Wiley: And, how much is this?
- Dr. Leo Marvin: Twenty pounds worth."

"- Dr. Leo Marvin: Why are you always wearing black? What is it with you and this death fixation?
- Sigmund 'Siggy' Marvin: Maybe I'm in mourning for my lost childhood."


"- Bob Wiley: You ever hear of Tourette's syndrome? Involuntarily shouting profanity?
- Dr. Leo Marvin: It's exceptionally rare.
- Bob Wiley: Shit-eating son-of-a-bitch! Bastard, douche-bag, twat, numb-nuts, dickhead, bitch!
- Dr. Leo Marvin: Why exactly are you doing this?
- Bob Wiley: If I fake it, then I don't have it."


It reminds me of my favorite poem, which is, "Roses are red, violets are blue, I'm a schizophrenic... and so am I!"