"The New Guy" quotes
(2002)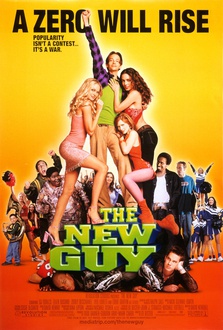 Title The New Guy
Year 2002
Director Ed Decter
Genre Comedy

Plot – At East Highland High School, the new mysterious and charming student Gil Harris is very appreciated by the girls of the school. In this way, he also gets into troubles with the criminal gangs, who are hot on the trail of Gil. The whole school is in his pocket, but no one knows that Gil has a secret.
All actors – DJ Qualls, Eliza Dushku, Zooey Deschanel, Jerod Mixon, Parry Shen, Lyle Lovett, Eddie Griffin, Sunny Mabrey, Ross Patterson, Matt Gogin, Horatio Sanz, Tony Hawk
show all
"The New Guy" Quotes 8 quotes
"At least as blips we were invisible. If you break your dick in front of the whole school, people remember that."


"- Kiki Pierce: [to Dizzy's dad] I'm afraid your son has Tourettes Syndrome.
- Dizzy: Are you out of your fucking mind?"


"- Kirk: That is, without doubt, the sluttiest girl I have ever seen.
- Glen: You have to do her, and while you're doing her, think of me. Okay that sounded gay."


"Denial is not just a river in Egypt!"


Behind every so-called "hero" is a little pissed-off dude that don't get no credit.