"Sordid Lives" quotes
(2000)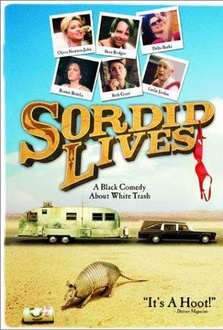 Title Sordid Lives
Year 2000
Director Del Shores
Genre Comedy, Romance

All actors – Olivia Newton-John, Kirk Geiger, Sarah Hunley, Newell Alexander, Beau Bridges, Earl Houston Bullock, Beth Grant, Delta Burke, Leslie Jordan, Mitch Carter, Bonnie Bedelia, Sharron Alexis
show all
"Sordid Lives" Quotes 6 quotes
"- Latrelle Williamson: I know you're gay, Ty! I've known you're gay since you were five years old and you wanted that doll Suzy Q for Christmas instead of the dump truck that your daddy wanted to buy you! I know you're gay, Ty, I've always known, but could we just please bury your grandmother and get on with life? Huh? Could we? Because I think..."

(continue)

(continue reading)




"I walked all the way down that hall with one less piece of female attire... that is, if you consider a wig attire."




- Noleta: We just finished watching "Thelma and Louise", and we're pissed!
- LaVonda: At men! Ain't that right, Louise?
- Noleta: No, I'm Thelma!
- LaVonda: I thought I was Thelma.
- Noleta: No, Thelma was the one with the shitty husband!