"The Man from Snowy River" quotes
(1982)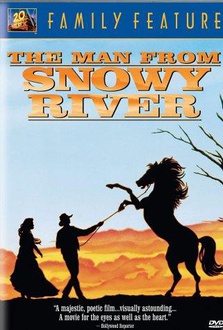 Title The Man from Snowy River
Year 1982
Director George Miller
Genre Drama, Romance, Adventure, Western, Family

Plot – A young guy who comes from the Australian highlands is employed in a farm. He's very useful as he's good with horses and gathers the lost cattle in the corral, saving from an accident his superior's daughter and falling in love with her. When the tyrant parent doesn't allow their marriage, the guy initially comes back home, then returns to take the girl with him.
All actors – Tom Burlinson, Terence Donovan, Kirk Douglas, Tommy Dysart, Bruce Kerr, David Bradshaw, Sigrid Thornton, Jack Thompson, Tony Bonner, June Jago, Chris Haywood, Kristopher Steele
show all
"The Man from Snowy River" Quotes 7 quotes
"There are at least a dozen good brood mares in that mob. I'll be back for them... and for whatever else is mine."


"If I'd wanted your help, mate, I would've asked for it."


"You're as deceitful as your mother."




"- Harrison: You have a long way to go yet, lad.
- Spur: He's not a lad, brother, he's man."


"A man without a horse is like a man without legs."




- Jim Craig: "United in death" the minister said.
- Spur: Superstition.
- Jim Craig: It's a nice thought, Spur.
- Spur: It's a great comfort to widows and fools. There's more to life than death, Jim.