"To Have and Have Not" quotes
(1944)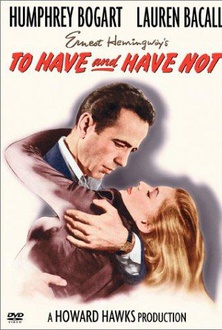 Title To Have and Have Not
Year 1944
Director Howard Hawks
Genre Romance, Thriller, War, Adventure

Plot – In 1940, after the defeat of France, in Martinique dominate Vichy government's officials and agents. There's also a group of French people who doesn't accept to stay in harmony with the enemy and fights to keep alive the revenge's spirit and prepare the reconquest of their country. Some of these patriots, hounded by the government's agents, ask help to the American commander of a motorized fishing boat to let two fellow believers, husband and wife, arrive in Martinique, to organize together with the commander their compatriot's escape from Devil's Island.
All actors – Humphrey Bogart, Walter Brennan, Lauren Bacall, Dolores Moran, Hoagy Carmichael, Sheldon Leonard, Walter Szurovy, Marcel Dalio, Walter Sande, Dan Seymour, Aldo Nadi, Audrey Armstrong, Juliette Ball, Joy Barlow, Eugene Borden, James Burross, Jack Chefe, Louise Clark, Adrienne D'Ambricourt, Jean De Briac, Marcel De la Brosse, Fred Dosch, Alphonse Du Bois, Elzie Emanuel, Fred Farrell, Lance Fuller, Harold Garrison, Janette Grae, Suzette Harbin, Margaret Hathaway, Frank Johnson, Hal Kelly, Sir Lancelot, Keith Lawrence, Oscar Loraine, Paul Marion, Maurice Marsac, Louis Mercier, Chef Milani, Gussie Morris, Kanza Omar, Jack Passin, Ron Randell, Pedro Regas, Margaret Savage, Patricia Shay, Milton Shockley, Emmett Smith, George Sorel, George Suzanne, Marguerita Sylva, Roger Valmy, Pat West, Crane Whitley, Edith Wilson, Jack Winslowe
show all
"To Have and Have Not" Quotes 9 quotes
"You don't think much of me, Captain Morgan. You're wondering why they have chosen me for this mission. I wonder too. As you know, I'm not a brave man. On the contrary, I'm always frightened. I wish I could borrow your nature for a while, Captain."

"- Capt. M. Renard: What are your sympathies?
- Harry Morgan: Minding my own business."


- Cricket: Hey Slim, are you still happy?
- Marie "Slim" Browning: What do you think?

. Harry Morgan: What made you so mad?
- Marie "Slim" Browning: I've been mad ever since I met you.
- Harry Morgan: Most people are.


"You know Steve, you're not very hard to figure, only at times. Sometimes I know exactly what you're going to say. Most of the time. The other times... the other times, you're just a stinker."

"- Johnson: What sort of a day will it be?
- Harry Morgan: I don't know. Just about like yesterday. Only better."


- Marie "Slim" Browning: Who was the girl, Steve?
- Steve: Who was what girl?
- Marie "Slim" Browning: The one who left you with such a high opinion of women.