"Hail the Conquering Hero" quotes
(1944)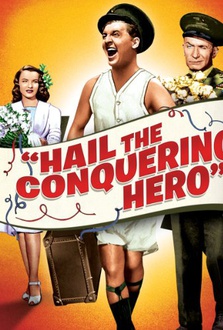 Title Hail the Conquering Hero
Year 1944
Director Preston Sturges
Genre Comedy, War

Plot – A young recruit joins the Marines but has to come back home immediately because of hay fever, but the telegram that announces his return wrongly declares him as a hero.
All actors – Eddie Bracken, Ella Raines, Raymond Walburn, William Demarest, Franklin Pangborn, Elizabeth Patterson, Georgia Caine, Al Bridge, Freddie Steele, Bill Edwards, Harry Hayden, Jimmy Conlin
show all
"Hail the Conquering Hero" Quotes 10 quotes
"Smile and the world smiles with you. Frown and you frown alone."

"They say opportunity's only got one hair on his head and you gotta grab it while it's going by and dog it down or you mightn't get another chance."




"- Sgt. Heppelfinger: That's right. Faithful to your mother.
- Woodrow Truesmith: It doesn't mean faithful to your mother at all. It means faithful to the Marines."

"That's one of the weaknesses of the military viewpoint: doesn't always recognize the importance of civilians in wartime."

- Sgt. Heppelfinger: A Marine never hides. That's what Semper Fidelis means: it means "Face the music".
- Woodrow Truesmith: It does not. It happens to mean "Always faithful".