"Outside Providence" quotes
(1999)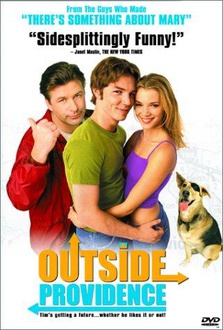 Title Outside Providence
Year 1999
Director Michael Corrente
Genre Drama, Comedy, Romance

Plot – Timothy, a teenager with divorced parents, prefers the company of his friends and his dog to books and responsibilities, getting lost in raids and marijuana smoking. As a result of an accident caused by himself, his father decides to send Timothy to a private school attended by rich bourgeois students. The boy, however, hardly integrates with them, who are used to satisfy their every whim thanks to the large money availability, so he isolates himself. Only Jane manages to win Timothy defenses and the two fall in love, so Timothy reaches a new self-awareness.
All actors – Shawn Hatosy, Tommy Bone, Samantha Lavigne, Jonathan Brandis, Adam LaVorgna, Jesse Leach, Jon Abrahams, Alec Baldwin, Richard Jenkins, Mike Cerrone, George Wendt, Robert Turano
show all
"Outside Providence" Quotes 8 quotes
"Making sex is like a Chinese dinner: It ain't over 'til you both get your cookies."




Man, you should see this song I'm listening to. It's called "Don't Bogart That Joint, My Friend".


"- Mr. Funderberk: These are the rules, listen carefully: no smoking, no drinking, no drugs, no sex, no cheating, no lying, no gambling, no matches.
- Tim Dunphy: No, shit!
- Mr. Funderberk: No swearing."


"Today you should have seen me and Mousy today at school today."

"You wouldn't know a classy broad if she took a dump on your head."




- Dean Mort: Mr. Dunphy, do you have a friend called "Drugs"?
- Tim Dunphy: Drugs Delaney?
- Mr. Funderberk: How many individuals named "Drugs" could you possibly associate with?