"Rudy" quotes
(1993)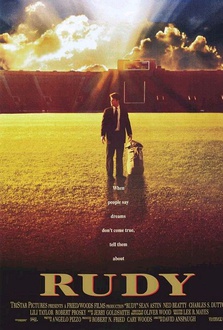 Title Rudy
Year 1993
Director David Anspaugh
Genre Drama, Sport, Biography

Plot – Rudy is an average student and athlete in Joliet, an average Illinois town. For this reason, he gives up college and finds himself a job. However, when his best friend Rudy dies, he decides to change his life. With great efforts, he gets accepted at university and manages to play in the school football team, even if only as a second-string player.
All actors – Sean Astin, Jon Favreau, Ned Beatty, Greta Lind, Scott Benjaminson, Mary Ann Thebus, Charles S. Dutton, Lili Taylor, Christopher Reed, Deborah Wittenberg, Christopher Erwin, Kevin Duda
show all
"In thirty-five years of religious study, I've come up with only two hard, incontrovertible facts: there is a God, and, I'm not Him."




"This is the most beautiful sight these eyes have ever seen!"

"Praying is something we do in our time, the answers come in God's time."


"Having dreams is what makes life tolerable."

"My job is to basically beat the shit out of you for the next 5 days, and whoever is still standing at the end, maybe we'll use for our scout teams. You'll be running the oppositions plays week in and week out. The greatest value to us is we don't care whether you get hurt."

"- Daniel E. 'Rudy' Ruettiger: Hey this place is really somethin' else huh? Someday I'm gonna come out of that tunnel and I'm gonna run onto this field.
- Fortune: Well, it ain't gonna be this day."

"I rode the bench for two years. Thought I wasn't being played because of my color, I got filled up with a lotta attitude. So I quit. Still not a week goes by I don't regret it."

"In this life, you don't have to prove nothin' to nobody but yourself."




- D-Bob: Remember Elza? She's my girl now. We're engaged. Ain't that goddamn something?
- Elza: Dennis!
- D-Bob: Oh yeah, I ain't allowed to say "goddamn" no more.