"Silver Bullet" quotes
(1985)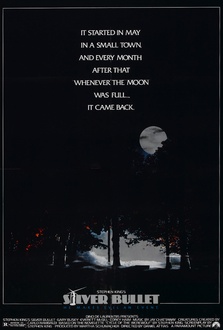 Title Silver Bullet
Year 1985
Director Daniel Attias
Genre Horror

Plot – An American town is plagued by a heinous series of crimes. The locals are frightened by everyone and the police cannot find out anything. Marty Coslaw, an eleven-year-old disabled boy, understands the criminal is a "werewolf" because one evening he faces the monster directly and wounds it. Marty confides with his elder sister Jane who fortunately believes him. The girl starts looking for a man with an injured eye and Reverend Lowe is indeed wounded. He realizes he's been unmasked and tries to kill Marty, but the two guys tell everything to their uncle Red, who however hardly accepts their story. As the sheriff discovers Lowe's identity, he's killed. At this point, the guys get a silver bullet as it's the only material capable of killing a werewolf. The final battle takes place on a full moon night and uncle Red, Marty and Jane kill the werewolf.
All actors – Gary Busey, Everett McGill, Corey Haim, Megan Follows, Robin Groves, Leon Russom, Terry O'Quinn, Bill Smitrovich, Joe Wright, Kent Broadhurst, Heather Simmons, James A. Baffico
show all
"Silver Bullet" Quotes 9 quotes
"The killing had begun, but at first, no one knew it. You see, Arnie Westrum was a chronic drunk. And what happened seemed like an accident. The county coroner concluded Arnie had passed out on the tracks. There wasn't enough evidence to conclude anything else."

"- Jane Coslaw: In the made-up stories, the guy who's the werewolf only changes when the moon is full, but maybe he's like this almost all the time, only as the moon gets fuller...
- Marty Coslaw: The guy gets wolfier."


"- Uncle Red: What the heck you gonna shoot a .44 bullet at anyway... made out of silver?
- Mac: How about a werewolf?"


"Suiciders go to hell, especially if they're pregnant, and I don't even care."

"My son was torn to pieces! You come in here and talk to these men about private justice? You dare to do that? Why do you go out to Harmony Hill, Sheriff Haller, and dig up what's left of my boy Brady... and explain to him about private justice. Would you want to do that? As for me, I'm gonna go out and hunt up a little private justice."


"Joe Haller couldn't find his own ass if somebody rammed it full of radium and gave him a Geiger counter!"

The law has a name for what you people are planning. It's called "private justice". And private justice is about a step and a half away from lynch mobs and hang ropes. Now I may be no J. Edgar Hoover, but I am the law in Tarker's Mills. I want all you people to go home.