"The Transporter 2" quotes
(2005)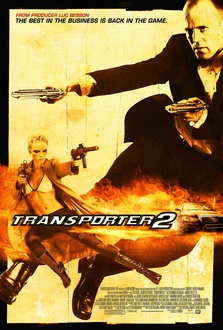 Title The Transporter 2
Original title Transporter 2
Year 2005
Director Louis Leterrier
Genre Crime, Thriller, Action

Plot – Frank Martin is tasked to carry little Jack Billings every day to school as he's the son of a DEA agent. Jack is kidnapped by a thug who injects him a deadly virus and Frank begins a race against time to save the child and to foil a cartel's terrible plan.
All actors – Jason Statham, Alessandro Gassman, Amber Valletta, Kate Nauta, Matthew Modine, Jason Flemyng, Keith David, Hunter Clary, Shannon Briggs, François Berléand, Raymond Tong, George Kapetan, Jeff Chase, Gregg Weiner, Gregg Davis, Marty Wright, AnnaLynne McCord, Reggie Pierre, Elie Thompson, Adam Faldetta, Michael House, Tim Ware, Liv Davalos Maier, Damaris Justamante, Andy Horne, Doug MacKinnon, Marc Macaulay, Bill Wilson, Robert Small, Jim R. Coleman, Heath Kelts, Chris Campbell, Paul Tei, Ernest Harden Jr., Tim Powell, Shelah Marie, Shelah Rhoulhac, Tom Derek, Serafin Falcon, Max Osterweis, Laurence Gormezano, Jay Amor, Scott Dale, Vincent De Paul, Bobby Dodge, Roberto Escobar, Jesse Holland, Erik Joseph, Elissa Kapneck, Dave Knight, Bruce Perkins, Erik Townsend
show all
"The Transporter 2" Quotes 8 quotes
"Have a good life. What's left of it."




- Frank Martin: Didn't your mother ever teach you to say "thank you"?
- Lola: Yeah. She tried and failed miserably.