"10" quotes
(1979)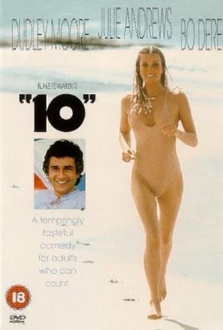 Title 10
Year 1979
Director Blake Edwards
Genre Comedy, Romance

All actors – Dudley Moore, Julie Andrews, Bo Derek, Robert Webber, Dee Wallace, Sam J. Jones, Brian Dennehy, Max Showalter, Rad Daly, Nedra Volz, James Noble, Virginia Kiser
show all
"Whenever Mrs. Kissel breaks wind, we beat the dog."

- George Webber: If you were dancing with your wife, or girlfriend you knew in high school, and you said to her: "Darling, they're playing our song", do you know what they'd be playing?
- Donald: What?
- George Webber: Why Don't We Do It In The Road. Fuckin' hell kind of era is that?