"Bounce" quotes
(2000)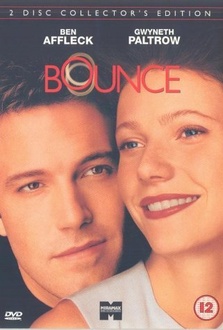 Title Bounce
Year 2000
Director Don Roos
Genre Drama, Romance

Plot – Buddy Amaral is a charming, successful and single advertiser who works in Los Angeles. Abby Janello is a young, widowed mother forced by events to lead a very simple life. When the two meet, they both realize they have one thing in common: a difficult situation. They start dating and when the relationship deepens, Abby thinks Buddy could be her "second chance" to be happy, but the woman learns their first meeting wasn't exactly accidental as she thought.
All actors – Ben Affleck, Gwyneth Paltrow, Natasha Henstridge, Edward Edwards, Jennifer Grey, Tony Goldwyn, Lisa Carpenter-Prewitt, Lisa Joyner, Richard Saxton, Caroline Aaron, David Dorfman, Alex D. Linz, Juan García, Mary Ellen Lyon, Joe Morton, Thea Mann, Matthew Frauman, Sam Robards, Ty Murphy, David McCharen, Julianne Christie, Jeff Garlin, Johnny Galecki, Nicole Tocantins, Ashley Montgomery, Erik Aude, Scott Alan Smith, Mark Ankeny, Julia Campbell, Michael Laskin, Michael Ayala, David St. James, Don Amendolia, John Levin, Chris Harrison, Michael R Bowman, Dan Braun, Bob Casper, Katherine Disque, Jeffrey M. Hoffman, Kimberley Kates, Mike McIntosh, David Paymer, Alastair Surprise, Andy Umberger
show all
"- Abby Janello: Being with him is like making a choice.
- Donna: You don't have that choice, Abby. You have other choices.
- Abby Janello: It just can't be him - that's all.
- Donna: Ok, then fine. But whether it's Buddy or someone else a year from now, whoever you choose will be there because Greg is not. That's just how it is."


"It's not brave if you're not scared."


"Bouncing. It's like crashing except you get to do it over and over again."




"That's what I love about working for you. It's a total freedom from hero worship. It's very refreshing."


"- Buddy Amaral: You only took 2 puffs of your last one.
- Abby Janello: That's cause I don't really smoke. Yeah, well, last year I started chewing the gum, you know? Because my friend, Donna, she was trying to quit smoking and she found that the gum was soothing to the nerves. So I started chewing it, then I got hooked on the gum and then I got..."

(continue)

(continue reading)




Guys screw up - that's what they do. It's in their manual, right under "Love your grill; leave socks on floor".