"Jersey Girl" quotes
(2004)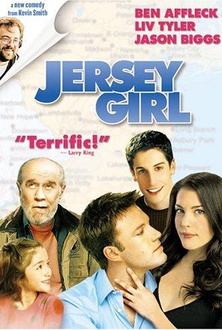 Title Jersey Girl
Year 2004
Director Kevin Smith
Genre Drama, Comedy, Romance

Plot – Ollie Trinke lives in Manhattan and has a beautiful wife, a good job as a publicist and a baby on the way. In a short time his wife dies and, to care for her daughter, he loses his job. From New York he's forced to settle in a New Jersey suburb. When Ollie has almost totally lost all his hopes, he meets a sweet girl, Maya, who makes him understand life can always reserve new surprises.
All actors – Betty Aberlin, Matt McFarland, Sarah Stafford, Paulie Litt, Christian Fan, Victor Chavez, William Mace, Raquel Castro, Ben Affleck, Jennifer Schwalbach Smith, Jennifer Lopez, George Carlin, Stephen Root, Mike Starr, S. Epatha Merkerson, Jason Biggs, Jada Copeland Goodman, Alice Schaerer, Brian T. Delaney, Carol Florence, Matthew Maher, Robert McKay, Ernest O'Donnell, Cymande Lewis, Dan Etheridge, Mark Jwayad, Jason Lee, Matt Damon, Liv Tyler, Charles Gilbert, Charles McCloskey, Matthew Cloran, Tom Cleary, John Willyung, Edward Janda, Anthony Bosco, Louis Centanni, Meghan Elizabeth, Keith Moyer, Anthony Parrulli, Christopher Pickhardt, David C. Roehm Sr., Lisa Roumain, Antonio Saillant, Charley Scalies, Faith Shin, Hope Shin, Harley Quinn Smith, Will Smith, Ron Suchoplas
show all
"Jersey Girl" Quotes 13 quotes
"- Bart Trinke: Sun even shines on a dog's ass some days.
- Greenie: You gettin' a dog?"


"- Will Smith: What's your daughter's name?
- Ollie Trinke: Gertrude.
- Will Smith: Damn, why'd you do that man?"


"- Ollie Trinke: Come on, Dad. Don't you wanna live alone again?
- Bart Trinke: Not as much as I don't wanna die alone."


"Convincing a town to approve something that's already in their best interest, that's just delayed common sense!"


"- Gertie Trinke: Thank you, Daddy.
- Ollie Trinke: Anything for you. You know why? 'Cause you're the only thing I was ever really good at."


George Michael is all about the ladies. "I want your sex". Does that sound like he's singing to a guy?




"- Maya: Why don't you go get yourself a girlfriend?
- Ollie Trinke: I spend all day working and spend all night with my kid.
- Maya: So you would rather spend time with your daughter than get laid? That's sweet. I'm kind of crushing on you."


"Cats" is the second-worst thing that ever happened to New York City.