"Children of the Corn II: The Final Sacrifice" quotes
(1992)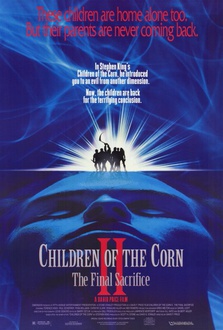 Title Children of the Corn II: The Final Sacrifice
Year 1992
Director David Price
Genre Horror, Thriller

Plot – Gatlin town was upset in 1983 by a wave of mysterious murders, whose victims were always adults. After a long investigation, it was discovered that the murderers were a bunch of kids, controlled by a sect that practiced macabre rituals. Now the children-killers have returned and started the killing again. It's up to a journalist to deal with the threat.
All actors – Terence Knox, Paul Scherrer, Ryan Bollman, Christie Clark, Rosalind Allen, Ned Romero, Ed Grady, John Bennes, Wallace Merck, Joe Inscoe, Kellie Bennett, Robert C. Treveiler
show all
"Children of the Corn II: The Final Sacrifice" Quotes 13 quotes
"There's something out there. Something that's evil. It's gotten a hold of our children."




"- Dr. Richard Appleby: You actually see a connection between a nosebleed and a house falling?
- John Garrett: Yeah, they're both dead. That seems to happen a lot around here, did you notice that?
- Dr. Richard Appleby: I don't appreciate your humor."


"My husband walked into a corn field 15 years ago. He never came back."


"Heavy metal music blaring out its profane message to the waiting ears of our impressionable children. Movies are filled with violence! Blood and bodies, naked bodies, writhing together, glorifying fornication! We are undone by our grievous animal desires. That is why we must look into ourselves to see if there is evil."


"It doesn't make sense, which is the beauty of it."


"The Bible tells us that one must become of a little child to find the path from sin. Yet there are some in our midst who feel that by taking on the poor, homeless victims of this tragedy, we are condemning ourselves to the same fate."


"There is a power! Greater than all! And it is within us!"

"Sometimes what you've learned conflicts with what you know."




Koyaanisqatsi. It means "Life out of balance". My ancestors would have told you that man should be at one with the earth, the skies, and water. But the white man has never understood this. He only knows how to take. And after a while, there's nothing left to take. So, everything's out of balance. And we all fall down.