"Event Horizon" quotes
(1997)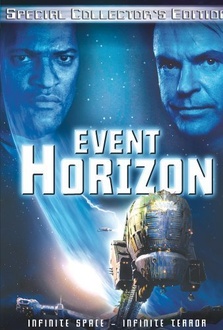 Title Event Horizon
Year 1997
Director Paul W.S. Anderson
Genre Sci-Fi, Horror, Thriller

All actors – Laurence Fishburne, Sam Neill, Kathleen Quinlan, Joely Richardson, Richard T. Jones, Jack Noseworthy, Jason Isaacs, Sean Pertwee, Peter Marinker, Holley Chant, Barclay Wright, Noah Huntley, Robert Jezek, , Emily Booth, Teresa May
show all
"Event Horizon" Quotes 23 quotes
"- Smith: I haven't seen anything and I don't need to see anything, sir, but I can tell you... this ship is fucked.
- Dr. Weir: Well, thank you for that scientific analysis, Mr. Smith."

"They're not your crew any more. They belong to the ship."

"If what Doctor Weir tells us is true, this ship has been beyond the boundaries of our universe, of known scientific reality. Who knows where it's been, what it's seen... or what it's brought back with it?"

"- Miller: What are you telling me, that this ship is alive?
- Lt. Starck: You wanted an answer, and it's the only one I've got."


"- Miller: Oh. My. God. What happened to your eyes?
- Dr. Weir: Where we're going, we won't need eyes to see."


"- Miller: You just get your gear and get back on the Lewis and Clark, Doctor, or you'll find yourself walking home.
- Dr. Weir: I am home."

"Hell is only a word. The reality is much, much worse."


"Have you ever seen fire in zero gravity? It's beautiful. It's like liquid, it slides all over everything. Comes up in waves."

"It knows my fears, it knows my secrets! Gets inside your head and... it shows you!"

"The ship doesn't really go faster than light; what it does is it creates a dimensional gateway that allows it to jump instantaneously from one point of the universe to another light years away."


"- Miller: Vacate! I want off this ship!
- Dr. Weir: You can't leave. She won't let you."

"I've been listening to the distress signal, and I, um, think I made a mistake in the translation."




"I created the Event Horizon to reach the stars, but she's gone much, much farther than that. She tore a hole in our universe, a gateway to another dimension. A dimension of pure chaos."


"- Cooper: I'm the lifesaver and the heartbreaker.
- Miller: He's a rescue technician."

"When she crossed over, she was just a ship. But when she came back... she was alive!"

"You break all the laws of physics and you seriously think there wouldn't be a price?"

I thought it said "Liberate me" - "Save me." But it's not "me." It's "Liberate tutame" - "Save yourself". And it gets worse.