"Miami Blues" quotes
(1990)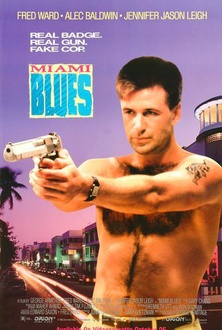 Title Miami Blues
Year 1990
Director George Armitage
Genre Drama, Comedy, Crime, Thriller

Plot – Frederick Frenger Junior is a good-looking thug who arrives in Miami. There he suddenly kills a harmless young Krisnha guy and rents a room in a luxurious hotel paying with fake credit cards. He's visited by Susie Waggoner, a call girl, and she falls for him, lending him ten million dollars to get married. Meanwhile, Sgt. Moseley starts chasing the killer of young Krisnha.
All actors – Alec Baldwin, Cecilia Pérez-Cervera, Georgie Cranford, Edward Saxon, José Pérez, Obba Babatundé, Fred Ward, Jennifer Jason Leigh, Charles Napier, Matt Ingersoll, Jack G. Spirtos, Raphael Rey Gomez
show all
"Miami Blues" Quotes 9 quotes
"The first thing they shoulda told you at your hooker classes is that you shouldn't ask the client so many fucking personal questions."


"- Krishna Ravindra: My name's Ravindra. What's yours?
- Frederick J. Frenger Jr.: Trouble."


"- Susie Waggoner: So... are you gonna tell me about it?
- Frederick J. Frenger Jr.: Yeah, I'm gonna tell you about it. This straight life we've been living gave me a false sense of security. For a second I thought I was some kind of solid citizen or something.
- Susie Waggoner: All I wanna know is what happened to you.
- Frederick J. Frenger Jr...."

(continue)

(continue reading)




"Do you know any married people today? They're a team. They pull together and they get rich. They got it all."


"I had to give him the benefit of the doubt. He always ate everything I ever gave him and he never hit me."

- Susie Waggoner: ...And you save your money... and buy a nice little house, with a white picket fence, and live happily ever after.
- Frederick J. Frenger Jr.: Tell you what. Let's go straight to the "happily ever after" part, ok?