"Pee-wee's Big Adventure" quotes
(1985)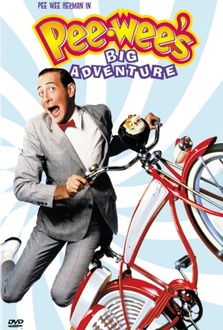 Title Pee-wee's Big Adventure
Year 1985
Director Tim Burton
Genre Comedy, Adventure, Family, Fantasy

Plot – Pee-wee Herman lives in a world full of fun and games as a child trapped in the body of an adult. His treasure is his beloved bicycle, which attracts the attention of everyone, even of Francis, who offers him some money to have it. When the bike is stolen, Pee-wee suddenly finds himself in the real world and travels through America to find it. During this adventurous journey, he meets very odd people who help him.
All actors – Paul Reubens, Elizabeth Daily, Mark Holton, Diane Salinger, Judd Omen, Irving Hellman, Monte Landis, Damon Martin, David Glasser, Gregory Brown, Mark Everett, Daryl Keith Roach, Bill Cable, Peter Looney, Starletta DuPois, Professor Toru Tanaka, Ed Herlihy, Ralph Seymour, Lou Cutell, Raymond Martino, Erica Yohn, Bill W. Richmond, Alice Nunn, Ed Griffith, Simmy Bow, Jon Harris, Carmen Filpi, Jan Hooks, John Moody, John O'Neill, Alex Sharp, Chester Grimes, Luis Contreras, Lonnie Parkinson, Howard Hirdler, Cassandra Peterson, Jason Hervey, Bob McClurg, John Paragon, Susan Barnes, Zack Hoffman, Lynne Marie Stewart, George Sasaki, Richard Brose, Drew Seward, Brett Fellman, Bob Drew, John Gilgreen, Noreen Hennessey, Phil Hartman, Michael Varhol, David Rothenberg, Patrick Cranshaw, Sunshine Parker, Gilles Savard, James Brolin, Morgan Fairchild, Tony Bill, Twisted Sister, Milton Berle, Terry Bolo, Tim Burton, Cleve Hall, Tom Willett
show all
"Pee-wee's Big Adventure" Quotes 10 quotes
"- Simone: Do you have any dreams?
- Pee-wee Herman: Yeah, I'm all alone. I'm rolling a big doughnut and this snake wearing a vest..."


"- Francis Buxton: Today's my birthday and my father says I can have anything I want.
- Pee-wee Herman: Good for you and your father.
- Francis Buxton: So guess what I want.
- Pee-wee Herman: A new brain."


"- Pee-wee Herman: Exhibit D: Jimmy what is this? Too late! Chip!
- Chip: It looks like a pen.
- Pee-wee Herman: Exactly! I bought this pen exactly one hour before my bike was stolen. Why? What's the significance? I don't know!"


"- Dottie: Pee-wee, how are you ever going to pay a reward like that?
- Pee-wee Herman: It's simple. Whoever returns the bike is obviously the person who stole it. So they don't deserve any reward!"

"- Pee-wee Herman: There's a lotta things about me you don't know anything about, Dottie. Things you wouldn't understand. Things you couldn't understand. Things you shouldn't understand.
- Dottie: I don't understand."


- Pee-wee Herman: What did you do?
- Mickey: Well, I lost my temper and I took a knife and I uh... do you know those "Do Not Remove Under the Penalty of Law" labels they put on mattresses?
- Pee-wee Herman: Yeah.
- Mickey: Well I cut one of them off!