"Revenge of the Nerds" quotes
(1984)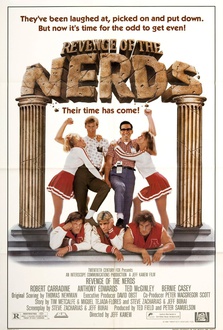 Title Revenge of the Nerds
Year 1984
Director Jeff Kanew
Genre Comedy

Plot – A group of freshman nerds arrive to an Arizona college just in time to get picked on by the cool classmates of the Alpha Beta brotherhood. After being hazed, the nerds fight back: cleverness and intelligence against brutal force and strong bodies. And in the end, they will even get the girls.
All actors – Robert Carradine, Anthony Edwards, Timothy Busfield, Andrew Cassese, Curtis Armstrong, Larry B. Scott, Brian Tochi, Julia Montgomery, Michelle Meyrink, Ted McGinley, Matt Salinger, Donald Gibb
show all
"Revenge of the Nerds" Quotes 10 quotes
- Sergeant: I do not know what this world is coming to. See that man over there. We arrested him for mopery.
- "Booger": What's mopery?
- Sergeant: Mopery is exposing yourself to a blind person.


- "Booger": Step aside momma, I wanna see some of that muff!
- Takashi: Oh Hair pie! Hair pie!

You know, when you were a baby in your crib, your father looked down at you, he had but one hope: "someday, my son will grow to be a man". Well look at you now; you just got your asses whipped, by a bunch of goddamn nerds.


"- Poindexter: Wait, would you rather live in the ascendancy of a civilization or during its decline?
- Mu: Poindexter, do you wanna fuck, or not?
- Poindexter: Okay."


- "Booger": Big deal! Did you get in her pants?
- Gilbert: She's not that kind of girl, Booger.
- "Booger": Why? Does she have a penis?

"- Betty Childs: Are all nerds as good as you?
- Lewis: Yes.
- Betty Childs: How come?
- Lewis: 'Cause all jocks ever think about is sports, all we ever think about is sex."

"Ah, you college men are all alike: all you think about is getting laid! I almost wish I was enrolling in school with you guys!"


- Takashi: I think I've got a frush.
- "Booger": What the fuck's a frush?
- Takashi: [showing his royal flush] A frush.
- "Booger": [showing his cards] Oh, well I've got two sevens and two sevens beats a frush.
- Takashi: Oh, thank you.

- Judy: Maybe we should eat?
- Wormser: Maybe we should watch TV?
- "Booger": Hey guys...
[opens his leather jacket to reveal some Marijuana cigarettes]
- "Booger": ... Wonder joints.


- Takashi: Excuse please, but why do they call you "booger"?
- "Booger": [picking his nose] I don't know.