"The Weather Man" quotes
(2005)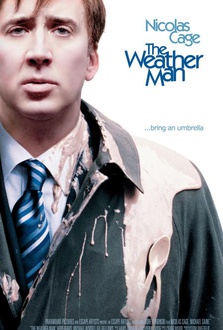 Title The Weather Man
Year 2005
Director Gore Verbinski
Genre Drama, Comedy

Plot – David Spritz is the weatherman of a local television station in Chicago, Channel 6. For many people, he's more than just someone who forecasts sun, rain or snow: he's also a moving target. Regularly Spritz is hit with soda pop, malts or food by jealous fans, who have with him a love and hate relationship. David wants nothing more than respect, especially from his own father, the award-winning author Robert Spritzel. David also wants his former wife to love him again, his daughter to be happy and his son to stay out of troubles.
All actors – Nicolas Cage, Michael Caine, Hope Davis, Gemmenne de la Peña, Nicholas Hoult, Michael Rispoli, Gil Bellows, Judith McConnell, Chris Marrs, Dina Facklis, J. Nicole Brooks, Sia A. Moody, Guy Van Swearingen, Alejandro Pina, Jackson Bubala, Jennifer Bills, Peter Grosz, Joe Bianchi, Nick Kuehneman, Bruce Jarchow, Joanne Sylvestrak, Robyn Moler, John D. Milinac, Melanie Decelles Castro, Jason Wells, Scott Benjaminson, Ora Jones, Mike Bacarella, Jennifer Joan Taylor, Chuck Stubbings, Shanesia Davis-Williams, Dan Flannery, Sandy Whiteley, Antoine McKay, Eduardo N. Martinez, David Darlow, Will Zahrn, Poorna Jagannathan, Bryant Gumbel, Anne Marie Howard, Ed McMahon, Cristina Ferrare, Stephen Hilger, Ron McClary, Eric Ambriz, Leah Rose Orleans, Juhong Xue, Tom Skilling, Wolfgang Puck, Monica Weaver, John Francis Mountain, Peter Nikkos, Nathan Adloff, Charla Agers, Dan Ahn, Joshua Brail, Ryan Burk, Kristen Duerdoth, Terrence Edwards, David Michael Fordham, Clifford M. Freeney, Todd Goodman, John R. Haley, Michelle Shelton Huff, Bob Kolbey, Kathryn Lyn, Nikki Taylor Melton, Sergio Mojica, Levin O'Connor, Nikkole Palmatier, Daniel Riggs, Christian Rose, Ryan Salzwedel, Megan Schaiper, Gary Sedlock, Oral Sledge, Dwight Sora, January Stern, Joey Strobel, Richard Strobel, Amber Sutherland, Tristan Layne Tapscott
show all
"The Weather Man" Quotes 13 quotes
"I remember once imagining what my life would be like, what I'd be like. I pictured having all these qualities, strong positive qualities that people could pick up on from across the room. But as time passed, few ever became any qualities that I actually had. And all the possibilities I faced and the sorts of people I could be, all of them got..."

(continue)

(continue reading)




"I don't predict it. Nobody does, 'cause i-it's just wind. It's wind. It blows all over the place! What the fuck!"

"Fast food. Things that people would rather throw out than finish. It's easy, it tastes all right, but it doesn't really provide you any nourishment. I'm fast food."


"People don't throw things at me any more. Maybe because I carry a bow around."




"I wish I had two dicks."




"People recognize me sometimes. Some are dicks. I should cool out a little, I guess. I mean, I'm not just this two-dimensional guy they recognize. I do have a relationship to them. I let them know what they have to deal with. I guess that's why they think they know me. But they don't, really."




"Sacrifice is... to get anything of value, you have to sacrifice."




"If you want your father to think you're not a silly fuck, don't slap a guy across the face with a glove because if you do that, that's what he will think. Unless you're a noble man or something in the nineteenth century. Which I am not."


"Accuracy equals focusing on a point. Gravity pulls an inch a yard. You point up. But you have to factor in wind, which is the most difficult part."




"What is this sucking and chucking and jacking of fucking up, son?"

"This shit life... we must chuck some things. We must chuck them... in this shit life. There's always looking after."




Do you know that the harder thing to do and the right thing to do are usually the same thing? Nothing that has meaning is easy. "Easy" doesn't enter into grown-up life.