"Cabin Boy" quotes
(1994)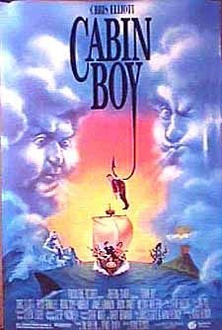 Title Cabin Boy
Year 1994
Director Adam Resnick
Genre Comedy, Romance, Adventure

Plot – Nathaniel Mayweather is a rich and snobbish student who's about to travel to Hawaii where his father owns a hotel. For a simple mistake, instead of embarking on the right ship, Nathaniel finds himself on a dirty schooner, the "Filthy Whore", populated by a quintet of surly sailors ready to haunt him. The worst comes when the boat approaches to the island known as Hell's Bucket.
All actors – Chris Elliott, Ritch Brinkley, James Gammon, Brian Doyle-Murray, Brion James, Melora Walters, I.M. Hobson, Alex Nevil, David H. Sterry, Bob Elliott, Edward Flotard, Jim Cummings
show all
"Cabin Boy" Quotes 10 quotes
"- Skunk: We're just here to catch fish and stink.
- Paps: Mostly the latter."


"- Nathanial Mayweather: Cappy, tell me about all of this. Tell me about the sea. What does it mean to you?
- Captain Greybar: Basically, money. I come from six generations of seamen all with the same goal in life: catch fish, sell 'em, get drunk, and get laid."


"- Nathanial Mayweather: Paps, you've been like the drunken, abusive grandfather I never had.
- Paps: Ah, stop that. You'll have my glass eye foggin' over."


"- Trina: What happened to you?
- Nathanial Mayweather: Well, let's just say I've finally shed my feminine side, like a snake sheds its fur."


"I just don't get it! She seems totally uninterested in me, despite my smothering obsessiveness!"




Now I know what you're thinking. "What could be stranger than a big fatass floatin' cupcake?". Heh. How about one that spits tobacco?




- Mulligan: Do you know what I do to guys who quote unquote "sleep" with my wife?
- Nathanial Mayweather: Talk about your discomfort over a cup of hot cocoa?
- Mulligan: Clooooooooose. I cut off their heads with a nail clipper.