"Team America: World Police" quotes
(2004)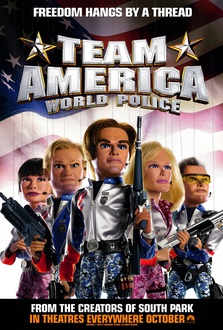 Title Team America: World Police
Year 2004
Director Trey Parker
Genre Comedy, Action

Plot – Team America,' an international police force that maintains stability in the world, discovers that a power-hungry dictator procures weapons for mass destruction to a group of terrorists. To infiltrate in the criminal network, 'Team America' recruits Gary Johnston, a movie rising star, to act undercover. At first Gary is reluctant but soon he realizes his acting talent can serve a noble cause.
All actors – Trey Parker, Matt Stone, Kristen Miller, Masasa Moyo, Daran Norris, Phil Hendrie, Maurice LaMarche, Chelsea Marguerite, Jeremy Shada, Fred Tatasciore, , John D. Kim, Paul Louis, Christine Papalexis, Elle Russ
show all
"Team America: World Police" Quotes 14 quotes
"Let's get one thing straight, actor. I don't trust you. And if you betray us, I'll rip your fucking balls off and stuff them up your ass so that the next time you shit, you'll shit all over your balls, got it?"


"I like you. You have balls. I like balls."




"- Gary Johnston: Ok, a limousine that can fly. Now I have seen everything.
- Spottswoode: Really? Have you seen a man eat his own head?
- Gary Johnston: No.
- Spottswoode: So then, you haven't seen everything."


"Why is everyone so fucking stupid? Why aren't more people interrigent? Rike me?"




"Please, Gary. I'm not from Hollywood, I'm not going to fuck your mouth."




- Spottswoode: Remember, there is no "I" in "Team America".
- I.N.T.E.L.L.I.G.E.N.C.E.: [pause] Yes, there is.


"See, there's three kinds of people: dicks, pussies, and assholes. Pussies think everyone can get along, and dicks just want to fuck all the time without thinking it through. But then you got your assholes, Chuck. And all the assholes want us to shit all over everything!"




"[Gary sees the limo] Oh, I get it. I'm supposed to get inside your limo and let you put your finger inside me. And if I go down on you, I get a movie part."


You had me at "dicks fuck assholes".