"Coffee and Cigarettes" quotes
(2003)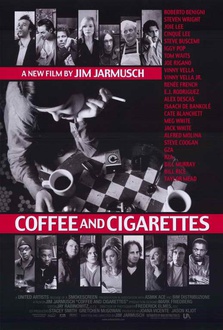 Title Coffee and Cigarettes
Year 2003
Director Jim Jarmusch
Genre Drama, Comedy, Music

Plot – Iggy Pop and Tom Waits meet in a café drinking coffee, smoking cigarettes and chatting about the jukebox which isn't playing good music. The White Stripes talk about power conduits. while Alfred Molina and Steve Coogan exchange suspects and low blows. GZA and RZA (Wu-Tang Clan) meet Bill Murray who's working as an undercover waiter. Two old men have a toast thinking about Paris during '20s and New York during '70s.
All actors – Roberto Benigni, Steven Wright, Joie Lee, Cinqué Lee, Steve Buscemi, Iggy Pop, Tom Waits, Joseph Rigano, Vinny Vella, Vinny Vella Jr., Renee French, E.J. Rodriguez
show all
"Coffee and Cigarettes" Quotes 7 quotes
"You really are a fuckin' moron, you know that? I'm gonna call up the big tobacco companies and thank them for burying you!"


"Oh, champagne; nectar of the Gods."




"- Jack: Nikola Tesla invented fluorescent light. Without him we wouldn't have alternating current, radio, television... x-ray technology... induction motors, particle beams, lasers; none of that would even exist if it weren't for him.
- Meg: Hmm, or the rock band Tesla."


"Cigarettes and coffee, man, that's a combination."


- Shelly: It's just... funny, don't yah think, that when you can't afford something, it's like "really expensive" but then when you can afford it, it's like, free? It's kinda backwards, don't yah think?
- Cate: Yeah, well... the world is a bit like that, I guess, in a lot of ways.