"High Fidelity" quotes
(2000)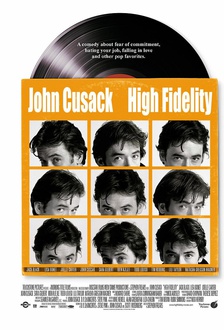 Title High Fidelity
Year 2000
Director Stephen Frears
Genre Drama, Comedy, Romance, Music

Plot – Rob Gordon is the owner of a bankruptcy record store in Chicago. With his employees he has an encyclopedic knowledge of music and together they create "top-five" charts about everything. When his girlfriend Laura breaks up with him, he is forced to think about his life. Unfortunately, he has to become an adult, passing through a real male self-consciousness.
All actors – John Cusack, Iben Hjejle, Todd Louiso, Jack Black, Lisa Bonet, Catherine Zeta-Jones, Joan Cusack, Tim Robbins, Chris Rehmann, Ben Carr, Lili Taylor, Joelle Carter, Natasha Gregson Wagner, Shannon Stillo, Drake Bell, Laura Whyte, Sara Gilbert, Rich Talarico, Matthew O'Neill, Brian Powell, Margaret Travolta, Jill Peterson, Dick Cusack, Susan Yoo, Chris Bauer, K.K. Dodds, Marilyn Dodds Frank, Duke Doyle, Aaron Himelstein, Jonathan Herrington, Daniel Lee Smith, Leah Gale, David Darlow, Erik Gundersen, Bruce Springsteen, Alex Désert, Alan S. Johnson, Ian Belknap, Andrew Micheli, Polly Noonan, Philip Rayburn Smith, Michele Graff, Susie Cusack, Liam Hayes, Damian Rogers, Robert A. Villanueva, Joe Spaulding, Scott A. Martin, Heather Norris, Harold Ramis, James Azrael, Julie DiJohn, Jennifré DuMont, Mark Finney, Reese Foster, Lisa Harrison, Susan Hegarty, Penny Marshall, Ian Michaels, Tristan Layne Tapscott, Timothy W. Tiedje, Ian Williams
show all
"High Fidelity" Quotes 28 quotes
"- Rob Gordon: You have great lingerie, but you also have the cotton underwear that's been washed a thousand times, and it's hanging on the thing and, and they have it too! It's just I don't have to see it because it's not in the fantasy. Do you understand? I'm tired of the fantasy because it doesn't really exist. And there are never really any..."

(continue)

(continue reading)




"Top five things I miss about Laura. One; sense of humor. Very dry, but it can also be warm and forgiving. And she's got one of the best all time laughs in the history of all time laughs, she laughs with her entire body. Two; she's got character. Or at least she had character before the Ian nightmare. She's loyal and honest, and she doesn't even..."

(continue)

(continue reading)




"John Dillinger was killed behind that theater in a hale of FBI gunfire. And do you know who tipped them off? His fucking girlfriend. All he wanted to do was go to the movies."


"I'll use music as fuel, you know? Not like as inspiration but as fuel like if I need to get into a certain mindset I know there's certain songs that I can turn on that'll just... that's the gas and that'll get me right where I need to go. Or if I need to get out of a certain state put on this song or that song and it just propels you."


"I'm tired of everything else, for that matter. But I don't ever seem to get tired of you."

"I've started to make a tape... in my head... for Laura. Full of stuff she likes. Full of stuff that make her happy. For the first time I can sort of see how that is done."

"- Rob Gordon: Liking both Marvin Gaye and Art Garfunkel is like supporting both the Israelis and the Palestinians.
- Laura: No, it's really not, Rob. You know why? Because Marvin Gaye and Art Garfunkel make pop records.
- Rob Gordon: Made. Made. Marvin Gaye is dead. His father shot him."


"People worry about kids playing with guns, or watchingviolent videos, that some sort of culture of violence will take them over. Nobody worries about kids listening to thousands, literally thousands of songs about heartbreak, rejection, pain, misery and loss. Did I listen to pop music because I was miserable? Or was I miserable because I..."

(continue)

(continue reading)




"The making of a good compilation tape is a very subtle art. Many do's and don'ts. First of all you're using someone else's poetry to express how you feel. This is a delicate thing."




"We were frightened of being left alone for the rest of our lives."

"My desert island, all-time, top-five most memorable breakups, in chronological order, are as follows: Alison Ashmore; Penny Hardwick; Jackie Alden; Charlie Nicholson; and Sarah Kendrew. Those were the ones that really hurt. Can you see your name on that list, Laura? Maybe you'd sneak into the top ten. But there's just no room for you in the top..."

(continue)

(continue reading)




"Alison married Kevin! I am fine now! Married her junior high school sweetheart: kissed me on the bench, kissed Kevin on the bench, married Kevin. This is great! This has got nothing to do with me! This is fate, this is destiny; it is beyond my control, beyond my fault. I love this!"


"I get by because of the people who make a special effort to shophere, mostly young men, who spend all their time looking for deleted Smith singles and original, not rereleased underlined Frank Zappa's albums. Fetish properties are not unlike porn. I'd feel guilty taking their money, if I wasn't... well... kinda one of them."


"Sometimes I got so bored of trying to touch her breast that I would try to touch her between her legs. It was like trying to borrow a dollar, getting turned down, and asking for 50 grand instead."

"I agreed that what really matters is what you like, not what you are like."




"It would be nice to think that since I was 14, times have changed. Relationships have become more sophisticated. Females less cruel. Skins thicker. Instincts more developed. But there seems to be an element of that afternoon in everything that's happened to me since. All my romantic stories are a scrambled version of that first one."


I'm not the smartest guy in the world, but I'm certainly not the dumbest. I mean, I've read books like "The Unbearable Lightness of Being" and "Love in the Time of Cholera", and I think I've understood them. They're about girls, right? Just kidding. But I have to say my all-time favorite book is Johnny Cash's autobiography "Cash" by Johnny Cash.