"The Alamo" quotes
(2004)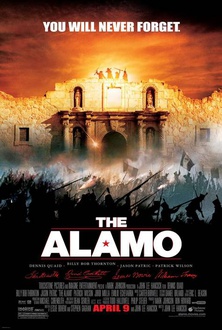 Title The Alamo
Year 2004
Director John Lee Hancock
Genre Drama, History, War, Western

Plot – The movie is a drama that traces the history of the Texas Revolution of 1835-36, with particular reference to the famous siege of the Alamo. The movie tells the story of a group of about two hundred Texans, including many Tejanos - Mexicans born in the state of Texas - led by Colonel Travis along with the legendary Jim Bowie and Davy Crockett, who stood up to the large army of general Santa Anna for thirteen days and the subsequent battle of San Jacinto, which enshrined the independence of the state.
All actors – Dennis Quaid, Billy Bob Thornton, Jason Patric, Patrick Wilson, Emilio Echevarría, Jordi Mollà, Leon Rippy, Tom Davidson, Marc Blucas, Robert Prentiss, Kevin Page, Joe Stevens, Stephen Bruton, Laura Clifton, Ricardo Chavira, Steven Chester Prince, Craig Erickson, Nick Kokich, Richard Nance, Jett Garner, Estephania LeBaron, Afemo Omilami, Edwin Hodge, Emily Deschanel, Blue Deckert, Turk Pipkin, Brandon Smith, Tommy G. Kendrick, W. Earl Brown, Tom Everett, Rance Howard, Stewart Finlay-McLennan, Matt O'Leary, John S. Davies, Kit Gwin, Castulo Guerra, Francisco Philbert, Mauricio Zatarain, Flavio Hinojosa, Hugo Pérez, Jesus Mayorga, Hector Garcia, Roland Uribe, Ruben G. Rojas, Lanell Pena, Michael Crabtree, Anna Reyes, Sonia Montoya, Elena Hurst, Lynn Mathis, Charles Sanders, Rutherford Cravens, Dameon Clarke, Tim Mateer, Nathan Price, Don Javier Castillo, Lonnie Rodriguez, Julio Cedillo, Buck Taylor, Oscar D. Silva, Marc Menchaca, Safia Gray, Eric Montoya, Michael Clossin, Robert Bassetti, Nathan Walker, Bert Beatson, Aidan Black, Wendy Bonn, Charles E. Gray, Celina Hernandez, Richard Andrew Jones, Crystal Marie Lee, Frank Matthews, Krystal Morton, Robert C. Pemelton, Alyssa Petersen, Amanda Petersen, Ann Taylor, Frank Thompson, Clint Tidwell, Tony Wolford, Daniel Zubiate
show all
"The Alamo" Quotes 11 quotes
"I called him a 'catamite'; that's one step up from 'assistant pederast'!"

"Sometimes... it's just the way you say things."

"Without blood, without tears, there's no glory."




"- General Castrillon: Our twelve pound cannon arrives tomorrow. Why sacrifice our soldiers trying to take a wall that can be demolished?
- Antonio Lopez de Santa Ana: General Castrillon, what are the lives of soldiers but so many chickens?"


"If we are not successful, our grandchildren and their grandchildren will beg for crumbs from the Americans!"




- William Travis: In a few days, all of Texas will know of our situation.
- James Bowie: Tell me, Buck, in Alabama, precisely how many is "a few"?