"Donnie Brasco" quotes
(1997)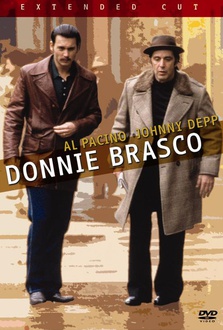 Title Donnie Brasco
Year 1997
Director Mike Newell
Genre Drama, Crime, Thriller, Biography

Plot – During the seventies, FBI agent Joe Pistone leaves his family to infiltrate in the Mob under the name of Donnie Brasco. To become a gangster and to be accepted, he has to prove his absolute loyalty and the willingness to commit any crime. Donnie acquaints himself with Lefty Ruggiero, a cynical senior killer who thinks to have a different future as a criminal thanks to the relationship with Donnie. Lefty introduces him to the great leaders and everything seems to go right but, in time, the young FBI agent can't detach himself and his emotions from their friendship.
All actors – Al Pacino, Johnny Depp, Michael Madsen, Bruno Kirby, James Russo, Anne Heche, Zeljko Ivanek, Gerry Becker, Robert Miano, Brian Tarantina, Rocco Sisto, Zach Grenier, Walt MacPherson, Ronnie Farer, Terry Serpico, Gretchen Mol, Tony Lip, George Angelica, Val Avery, Madison Arnold, Delanie Fitzpatrick, Katie Sagona, Sara Gold, Larry Romano, Tim Blake Nelson, Paul Giamatti, James McCauley, James Bulleit, Andrew Parks, Keenan Shimizu, Rocco Musacchia, Joe Francis, Sal Jenco, Billy Capucilli, Laura Cahill, Doreen Murphy, Elle Alexander, Denise Faye, Elaine del Valle, John Horton, Dan Brennan, LaJuan Carter, Sandy Barber, Joyce Stovall, Frank Pesce, Randy Jurgensen, John Di Benedetto, Richard Zavaglia, Tony Ray Rossi, Edward Black, Gaetano LoGiudice, Carmelo Musacchia, Pat Vecchio, Caleb, Frank Bonsangue, Christopher Del Gaudio, Barry Hirschberg, Jim Lavin, Jeff Millstein, Lisa Marie Panagos, Garry Pastore, Larry Tobias, Edward Williams
show all
"Donnie Brasco" Quotes 11 quotes
"I think I just shit my pants."

"- Sonny: How can John Wayne die?
- Lefty: Fuckin' Indians got him."


"If you're a rat, then I'm the biggest mutt in the history of the Mafia."




"- Lefty: There's the boss. And, under him, there's the skipper. You know how this works?
- Donnie Brasco: Yeah, it's like in the army.
- Lefty: Bullshit. The army is some guy you don't know telling you to go whack some other guy you don't know."


"When they send for you, you go in alive, you come out dead, and it's your best friend that does it."




"Forget about it" is, like, if you agree with someone, you know, like "Raquel Welch is one great piece of ass. Forget about it!" But then, if you disagree, like "A Lincoln is better than a Cadillac? Forget about it!" You know? But then, it's also like if something's the greatest thing in the world, like, "Minchia! Those peppers! Forget about it!...

(continue)

(continue reading)




"- Japanese Waiter: Please, take off your shoes.
- Donnie Brasco: Are you kiddin' me? Take off your pants, what the fuck is that?"


If I wanna introduce you, I'm gonna say "this is a friend of mine". That means you're a connected guy. Now, if I said instead "this is a friend of ours" that would mean you a made guy.