"Earth Girls Are Easy" quotes
(1988)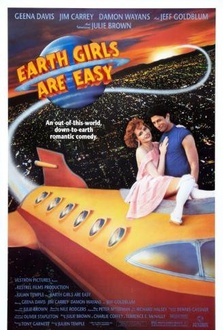 Title Earth Girls Are Easy
Year 1988
Director Julien Temple
Genre Sci-Fi, Comedy, Musical, Romance

Plot – Three colorful and hairy aliens land in the pool of Valerie, a manicurist in Los Angeles who is having problems with her surgeon partner. Valerie is at first scared but after the three have been given a human make-over with the help of her friend Candy, a beautician, she introduces them to worldly amusements. Moreover, the girl does not remain indifferent to the charms of one of the three. Finally, after creating a lot of troubles, the aliens return to space and Valerie decides to go with them.
All actors – Geena Davis, Jeff Goldblum, Jim Carrey, Damon Wayans, Julie Brown, Michael McKean, Charles Rocket, Larry Linville, Rick Overton, Diane Stilwell, Juney Ellis, Felix Montano
show all
"Earth Girls Are Easy" Quotes 15 quotes
"- Ted: I don't know, I'm just not that turned on by her lately.
- Body Factory Attendant: I hear oysters are good for potency.
- Dr. Rick: Yeah, I tried that once, but they kept slipping off.
- Ted: If I was any more potent, I'd kill somebody."


"A relationship is a lot like a porcelain nail, Ted. You can break it, and you can glue it back together, but it's not going to be as strong as it was unless the person is really committed to not bringing home nurses!"


"Well I see split ends are universal. Lost in space with no conditioner, huh?"




"There's a giant blow dryer in my pool."

"- Candy Pink: Okay you guys, what's the plan for tonight?
- Valerie: Whoa, Candy, reality check. We can't go out with these guys, they're aliens!
- Candy Pink: So? They can still be dates!"


"Have a mental margarita."




"Waste your brain; wax your board; pray for waves."




"Are we limp and hard to manage?"

"If you wanna be a femme fatale, you can't rest on your L'Oréals!"

- Valerie: I didn't want you to think Earth girls were easy.
- Mac: What is "easy"?
- Valerie: This is "easy".