"Predator" quotes
(1987)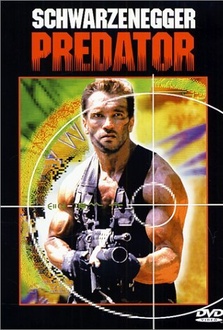 Title Predator
Year 1987
Director John McTiernan
Genre Sci-Fi, Adventure, Action

Plot – A helicopter with a minister on board is shot down in the jungle of Central America by a group of guerrilla fighters who are eager to take hostages. Dillon, a CIA agent, recruits Major Dutch Schaefer, an ex-colleague and leader of a team of adventurers, with which he normally works in risky operations. Dutch reaches the area of the kidnapping with the team. He especially wants to save a friend, Hopper, the pilot of the helicopter. The team kills the guerrilla fighters and immediately after they find Hooper's corpse brutally tortured and torn apart. One by one, Dutch's comrades die, their faces disfigured by terrible claws: a mysterious and fleeting monster is wandering in the jungle.
All actors – Arnold Schwarzenegger, Carl Weathers, Elpidia Carrillo, Bill Duke, Jesse Ventura, Sonny Landham, Richard Chaves, R.G. Armstrong, Shane Black, Kevin Peter Hall, Steve Boyum, William H. Burton, Peter Cullen, Henry Kingi, Sven-Ole Thorsen, Jack Verbois
show all
"Predator" Quotes 10 quotes
"- Dutch: What happened to you, Dillon? You used to be someone I could trust.
- Dillon: I woke up. Why don't you? You're an asset. An expendable asset. And I used you to get the job done, got it?"


"- Dutch: What's the matter? The CIA got you pushing too many pencils? Had enough?
- Dillon: Make it easy on yourself, Dutch."

"- Poncho: You're bleeding, man. You're hit.
- Blain: I ain't got time to bleed.
- Poncho: Okay. You got time to duck?"

"- Dillon: Never knew how much I missed this, Dutch.
- Dutch: You never were that smart."


"You lose it here, you're in a world of hurt."

"- Billy: I'm scared Poncho.
- Poncho: Bullshit. You ain't afraid of no man.
- Billy: There's something out there waiting for us, and it ain't no man. We're all gonna die."


"- Dutch: Who's our backup?
- Dillon: No such thing, ol' buddy. This is a one-way ticket. Once we cross that border, we're on our own.
- Dutch: This is getting better by the minute."


"What are you gonna try next? Cheese?"

The other day, I was going down on my girlfriend. I said to her, "Jeez you got a big pussy. Jeez you got a big pussy". She said, "Why did you say that twice?". I said, "I didn't". See, 'cause of the echo.