"Dune" quotes
(1984)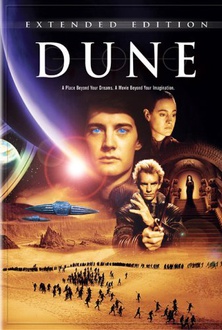 Title Dune
Year 1984
Director David Lynch
Genre Sci-Fi, Adventure, Action

Plot – In 10191, the planet Arrakis - known as Dune - has a peculiarity: it is the only one that has Melange or Spice, a powerful substance with many properties, including the ability of extending life and consciousness, allowing interstellar travels. The planet is ruled by two Houses: Atreides and Harkonnen. Paul Atreides and the Fremen, the ancient Arrakis' natives, team up to defend the planet's destiny.
All actors – Francesca Annis, Leonardo Cimino, Brad Dourif, José Ferrer, Linda Hunt, Freddie Jones, Richard Jordan, Kyle MacLachlan, Virginia Madsen, Silvana Mangano, Everett McGill, Kenneth McMillan, Jack Nance, Siân Phillips, Jürgen Prochnow, Paul L. Smith, Patrick Stewart, Sting, Dean Stockwell, Max von Sydow, Alicia Witt, Sean Young, Danny Corkill, Honorato Magaloni, Judd Omen, Molly Wryn, Angélica Aragón, Miguel Cane, Humberto Elizondo, Ernesto Laguardia, David Lynch, James Mathers, Ramón Menéndez, Ana Ofelia Murguía, Claudia Ramírez, Julieta Rosen, John Sabol, Margarita Sanz, Jacqueline Voltaire
show all
"- Stilgar: You have strength. You shall be known as Usual - which is the strength of the base of the pillar. This is your secretname in our troop. But, you must choose the name of manhood, which we will call you openly.
- Paul Atreides: What do you call the mouse shadow in the second moon?
- Stilgar: We call that one Muad'Dib.
- Paul Atreides:..."

(continue)

(continue reading)




"Oh Jessica, my beloved concubine. I should have married you."


"Irulan shall be my wife, opening the way for an Atreides to take the throne."


"- Lady Jessica: I once told you a daughter would be conceived at a time of parting.
- Duke Leto Atreides: I remember. Conceived in love, at a time of parting."

"Some thoughts have a certain sound, that being the equivalent to a form. Through sound and motion, you will be able to paralyze nerves, shatter bones, set fires, suffocate an enemy or burst his organs."


"- Duncan Idaho: May the Hand of God be with you.
- Paul Atreides: May the Hand of God be with us all, Duncan."


"You are so beautiful, my baron. Your skin, love to me. Your diseases lovingly cared for, for all eternity."




"Behold, as a wild ass in the desert, go I forth to my work."




"Tell me of your homeworld, Usul."




"The slow blade penetrates the shield."




"This is genocide! The systematic extermination of all life on Arrakis!"


"A million deaths were not enough for Yueh!"




"- Reverend Mother Gaius Helen Mohiam: Put your right hand in the box.
- Paul Atreides: What's in the box?
- Reverend Mother Gaius Helen Mohiam: Pain."


"You have no need for your weapons with me, Gurney Halleck."


"I'm dead to everyone unless I become what I may be."




"Fulfilling the Fremen prophecy. Where there was war, Muad'Dib would now bring peace. Where there was hatred, Muad'Dib would bring love. To lead the people to true freedom and to change the face of Arrakis."


- Lady Jessica: I could hear you with the wind.
- Duke Leto Atreides: And I whispered "Yes".
- Lady Jessica: And I whispered "I love you".