"The Verdict" quotes
(1982)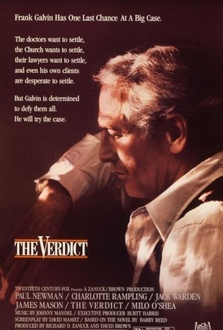 Title The Verdict
Year 1982
Director Sidney Lumet
Genre Drama

Plot – Frank Galvin was a brilliant lawyer. Due to painful family circumstances, now he's up to alcohol and has lost his reliability as a lawyer. He's just an "ambulance chaser" now and spends the rest of his time in bars or playing pinball. An important case can finally redeem him. Deborah Kaye is hospitalized at St. Catherine Hospital in Boston and lies in an irreversible coma. Galvin is entrusted the case by Deborah's sister and husband and they offer him 210,000 dollars as compensation. The lawyer however is entitled only to 70,000 dollars, the rest of the sum would go to the archdiocese who owns the Hospital. Galvin rejects the entire sum and bring the case to court against everyone's advice.
All actors – Paul Newman, Charlotte Rampling, Jack Warden, James Mason, Milo O'Shea, Lindsay Crouse, Edward Binns, Julie Bovasso, Roxanne Hart, James Handy, Wesley Addy, Joe Seneca, Lewis J. Stadlen, Kent Broadhurst, Colin Stinton, Burtt Harris, Scott Rhyne, Susan Benenson, Evelyn Moore, Juanita Fleming, Jack Collard, Ralph Douglas, Gregor Roy, John Blood, Dick McGoldrick, Edward Mason, Patty O'Brien, Maggie Task, Joseph Bergmann, Herbert Rubens, J.P. Foley, Leib Lensky, H. Clay Dear, J.J. Clark, Gregory Doucette, Tony La Fortezza, Marvin Beck, Herb Peterson, Tobin Bell, Kevin Fennessy, Willow Hale, Jon Hopwood, Bruce Willis
show all
"The Verdict" Quotes 9 quotes
"- Ed Concannon: Why wasn't she getting oxygen?
- Dr. Towler: Well, many reasons, really...
- Ed Concannon: Tell me one.
- Dr. Towler: She'd aspirated vomitus into her mask.
- Ed Concannon: She threw up in her mask. Now cut the bullshit, please. Just say it: She threw up in her mask."


"Your honor, with all due respect: if you're going to try my case for me, I wish you wouldn't lose it."




"Today you are the law. You are the law. Not some book... not the lawyers... not the, a marble statue... or the trappings of the court. See those are just symbols of our desire to be just. They are... they are, in fact, a prayer: a fervent and a frightened prayer."

I'd prepared a case and old man White said to me, "How did you do?". And, I said, "Did my best". And he said, "You're not paid to do your best. You're paid to win".




You know, so much of the time we're just lost. We say, "Please, God, tell us what is right; tell us what is true". And there is no justice: the rich win, the poor are powerless.