"A Room With A View" quotes
(1985)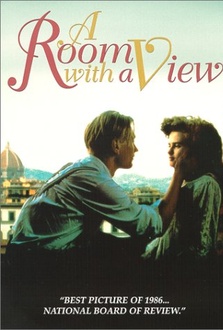 Title A Room With A View
Original title A Room with a View
Year 1985
Director James Ivory
Genre Drama, Romance

Plot – Lucy is a British girl who visits Italy and belongs to a noble family with austere Victorian costumes. The Bertolini pension in Florence has promised her a room which overlooks the Arno river but it's occupied by another British family, the Emersons. They accepts to change room, then between Lucy and young George Emerson loves arises surrounded by the natural and artistic beauty of the Tuscan city. To live her new relationship, Lucy must break the engagement with Cecil, the noble boyfriend her family has chosen for her. Lucy finds the strength to oppose her strict family rules and to defeat the repressive Victorian morality.
All actors – Maggie Smith, Helena Bonham Carter, Denholm Elliott, Julian Sands, Simon Callow, Patrick Godfrey, Judi Dench, Fabia Drake, Joan Henley, Amanda Walker, Daniel Day-Lewis, Maria Britneva, Rosemary Leach, Rupert Graves, Peter Cellier, Mia Fothergill, Kitty Aldridge, Brigid Erin Bates, Isabella Celani, Luigi Di Fiore, Matyelok Gibbs, Mirio Guidelli, Freddy Korner, Patricia Lawrence, Elizabeth Marangoni, Peter Munt, Luca Rossi, Stefano Serboli, Phillida Sewell, Margaret Ward, Royston Munt, Richard Robbins, James Wilby
show all
"A Room With A View" Quotes 16 quotes
"He's the sort who can't know anyone intimately, least of all a woman. He doesn't know what a woman is. He wants you for a possession, something to look at, like a painting or an ivory box. Something to own and to display. He doesn't want you to be real, and to think and to live. He doesn't love you. But I love you. I want you to have your own..."

(continue)

(continue reading)




"We all have our little foibles, and mine is the prompt settling of accounts."




"What is it about Italy that makes lady novelists reach such summits of absurdity?"


"In my small way I am a woman of the world. And I know where things can lead to."




"- Charlotte Bartlett: I would like to thank your father personally for his kindness to us.
- George Emerson: You can't. He's in his bath."


"Smell! A true Florentine smell. Inhale, my dear. Deeper! Every city, let me tell you, has its own smell."




- Charlotte Bartlett: This is not at all what we were led to expect.
- Lucy Honeychurch: I thought we were going to see the Arno.
- Charlotte Bartlett: The signora distinctly wrote "South rooms, with a view and close together", instead of which she has given us North rooms without a view and a long way apart.


"I have no profession. My attitude - quite an indefensible one - is that as long as I am no trouble to anyone, I have the right to do as I like. It is, I dare say, an example of my decadence."


"- Cecil Vyse: You don't love me, evidently. I dare say you're right not to, but... it would help a little, hurt a little less, if I knew why.
- Lucy Honeychurch: Because you're the sort who can't know anyone intimately, least of all a woman."


"Women like looking at a view. Men don't."


"- Reverend Beebe: Looking at Italian art! You see, you talk of coincidence and fate. You're naturally drawn to things Italian, as are we and all our friends, aren't we, Freddy? That narrows the field immeasurably.
- George Emerson: It is fate. But call it Italy if it pleases you, Vicar."


"- Lucy Honeychurch: Mother is calling, I have got to go. They trust me.
- Mr. Emerson: Why should they, when you deceived everyone, including yourself?"


- Freddy Honeychurch: Come and have a bathe.
- George Emerson: I'd like that.
- Reverend Beebe: That's the best conversation opening I've ever heard. "How do you do? Come and have a bathe".