"Big" quotes
(1988)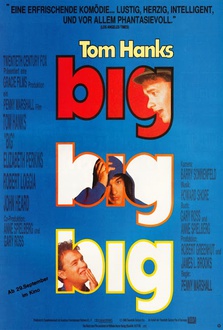 Title Big
Year 1988
Director Penny Marshall
Genre Drama, Comedy, Romance, Fantasy

Plot – Josh Baskin is a thirteen-year-old boy who plays with an odd machine at the amusement park wishing to become an adult. The next day he wakes up in the body of a 25-year-old guy: he's tallest and has a beard, but he's still the boy he used to be.
All actors – Tom Hanks, Elizabeth Perkins, Robert Loggia, John Heard, Jared Rushton, David Moscow, Jon Lovitz, Mercedes Ruehl, Josh Clark, Kimberlee M. Davis, Oliver Block, Erika Katz, Allan Wasserman, Mark Ballou, Gary Howard Klar, Alec Von Sommer, Chris Dowden, Rockets Redglare, Jaime Tirelli, Paul Herman, Nancy Giles, Jordan Thaler, Dana Kaminski, Harvey Miller, Tracy Reiner, James Eckhouse, Linda Gillen, Mildred R. Vandever, Bert Goldstein, Kevin Meaney, Peter McRobbie, Paul J.Q. Lee, Debra Jo Rupp, Keith Reddin, Lela Ivey, Dolores Messina, Gordon Press, George J. Manos, Vince Cupone, Susan Wilder, John Rothman, Judd Trichter, Pasquale Pugliese, Tom Coviello, Richard Devia, Teddy Holiavko, Augusto Mariani, Alfredo Monti, Sergio Mosetti, Armando Penso, Edward Schick, F. Benjamin Stimler, Jonathan Isaac Landau, Samantha Larkin, Bruce Jarchow, Vaughn Sandman, Paul Basile, Brian J. Cano, Kevin Fennessy, Matt Mindell, Brooke Marie Procida
show all
"- Josh: I'm much better at video hockey.
- Paul: That's not a sport.
- Josh: It requires hand and eye coordination.
- Paul: It's not a sport if you don't sweat."


"- Josh: What's this?
- Scotty Brennen: Pay day.
- Josh: [opens up the envelope and looks at his check] A hundred and eighty seven dollars?
- Scotty Brennen: Yeah. They really screw you, don't they?"


She spent the last three months writing down her married name. "Mrs. Judy Hicks", "Mrs. Donald Hicks"; "Mrs. Judy Mitchellson Hicks", sometimes with a hyphen, sometimes without a hyphen. Sometimes, she spells the hyphen.


"I'm your best friend. What's more important than that, huh?"




- Scotty Brennen: See that girl over there in the red? Say "hi" to her and she's yours. She'll have her legs around you so tight you'll be begging for mercy.
- Josh: Well, I'll stay away from her, then.

"- Paul: It's not a sport if you let a machine do all the work.
- Josh: What about car racing?
- Paul: Shut up, Baskin."


- Billy: [noticing a dingy hotel that says "St. James"] This one looks all right.
- Josh: No, it doesn't.
- Billy: St. James, Josh! It's religious.