"Lean on Me" quotes
(1989)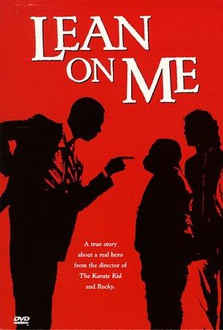 Title Lean on Me
Year 1989
Director John G. Avildsen
Genre Drama

Plot – Crazy' Joe Clark fully deserves his nickname as only a fool would think to arrange Eastside High School in Paterson, where violence and drugs are all the rage. Clark acts like a marine sergeant and in the end he gains the students' confidence.
All actors – Morgan Freeman, Beverly Todd, Robert Guillaume, Alan North, Lynne Thigpen, Robin Bartlett, Michael Beach, Ethan Phillips, Sandra Reaves-Phillips, Sloane Shelton, Jermaine 'Huggy' Hopkins, Karen Malina White
show all
"Lean on Me" Quotes 13 quotes
"They used to call me Crazy Joe. Well now they can call me Batman!"

"You are not inferior. Your grades may be. Your school may have been. But you can turn all that around and make liars out of those bastards in exactly one hour, when you take that test, pass it, and win!"

"Get this disgrace to his race out of here!"

"Discipline is not the enemy of enthusiasm!"


"Hey, son... put something in your head, not on it!"

"If we treat our students like animals, that's exactly how they'll behave!"


"Self-respect permeates every aspect of your existence. If you don't have respect for yourself, you're not gonna get it from anyone else."


"It kill your brain cells, son. It kill your brain cells! Now when you're destroying your brain cells, your doing the same thing as killing yourself. You just doing it slower! Now, I say, if wanna kill yourself, don't fuck around with it. Go on and do it expeditiously!"

"This is an institution of learning, ladies and gentlemen. If you can't control it, how can you teach?"

The Lord said: "do whatever you have to do". And he didn't say "Joe, be polite".

Highlights